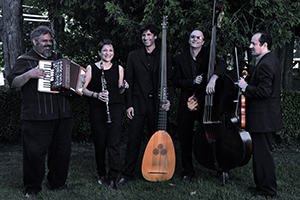 What do you get when you combine equal parts Fiddler On The Roof, European café band, and classical chamber ensemble, and then throw in a dash of the Marx Brothers and Woody Allen?
You get Big Galut(e), back on the Honolulu Chamber Music Series by popular demand. Attendees at the group's sold-out Honolulu performance of two years ago may still be laughing, and are certainly still smiling when they recall Big Galut(e)'s genre-bending blend of klezmer music and other musics of the Jewish diaspora. Though still flying below the music critics' radar, this klezmer band has garnered praise from the toughest critics out there – fellow performers and devotees of the genre, who exclaim over "the best klezmer concert I've ever been to", and say the group is "as tight and exciting as anyone out there."
Presenting music of five centuries and as many continents, Big Galut(e) concerts include melodies from Poland, Russia, Rumania, France, Italy, America, Argentina and Turkey. Along with a mind-boggling array of unlikely instruments come songs both serious and comic, in a variety of languages. And, devoted to the idea that audiences should have just as much fun as performers, the Galutes make sure that, sooner or later, everybody gets a chance to sing along.
Founded five years ago at the classically-oriented Glimmerglass Festival, Big Galut(e) is equally at home on serious chamber music series and at traditional "Borscht Belt" venues of New York state's Catskill region. Bringing together both worlds, the five-member ensemble recently made its orchestral debut with the most appropriate possible backup band, The Catskill Symphony. Big Galut(e) has shared the stage with The Amazing Race's Fabulous Beekman Boys, and a host of singers both classical and cantorial, including local favorite Rachel Schutz. Having recorded on multiple labels as individual artists, the band will release its first group effort in late 2014.
For more, see biggalute.com
Tickets are now on sale at the Honolulu Museum of Art front desk, and online here.
Program, to be announced from the stage, will include
Moyshele, Yankele, Reyzele   Mordecai Gebirtig (1877-1942)
Papirosin   Herman Yablokoff (1903-81)
Adio Kerida   anonymous/Giuseppe Verdi (1813-1901)
Charlemos   Luis Rubistein (1908-54)
Symphony #1, Third movement: Feierlich und gemessen   Gustav Mahler (1860-1911)
Sora the Schnorrer   Cab Calloway (1907-94) et al.
For information about the program, click here.