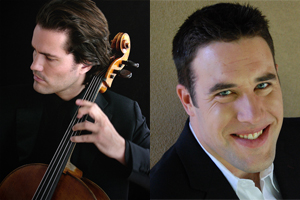 Expect fireworks when cellist Zuill Bailey is joined by pianist Jonathan Korth at the Doris Duke Theater. According to one admiring reviewer: "Zuill Bailey tends to win most people over on his first bow stroke, if not sooner … Bailey doesn't play notes. He plays sounds and feelings. His cello is as beautiful as he is, but after watching him play it for awhile, it almost seems as if he becomes one with it and that he is dancing freely as an extension of it. His performance is simply a joyous experience for all. A living lesson in phrasing … a tremendous dynamic range even within one note. I love to watch and hear a musician who is not afraid to play almost over the edge, and Bailey does this. He knows the rules, but he pushes them whenever he chooses to do so."
Bailey, a Virginian trained at Juilliard and Peabody, has previously wowed Honolulu audiences as soloist with the Honolulu Symphony. By now, he is one of today's most sought-after cello soloists, an exclusive Telarc recording artist, and a familiar presence on television, with appearances including a recurring role on HBO's Oz. In demand as a soloist internationally, Korth is a familiar name to Honolulu audiences, as he is a professor of piano at the University of Hawaii-Manoa. It will be a rare treat to hear the two together on stage.
Pianist Jonathan Korth will be a familiar face to Hawai'i audiences, and many have experienced his performances in and around Honolulu as well as neighbor islands on series such as the Honolulu Chamber Music Series, Hawaii Concert Society, Chamber Music Hawaii, and faculty concerts at UH Manoa as a soloist, chamber musician, and collaborator. Hailed by the Des Moines Register as having "prodigious technique and [a] keen sense of musicianship."
Known as a "brilliant collaborator" (The Spokesman-Review), Mr. Korth's love for chamber music has led to collaborations with string players such as Martin Beaver (Tokyo String Quartet), Sung-Won Yang, Alan Stepansky, and David Requiro. Mr. Korth is as much in demand in Europe and Asia as in the United States, having performed multiple recital tours in France, Belgium, the UK, China, Korea, and Taiwan. A prolific concertizer, he has performed at many of the nation's top venues, including Carnegie Hall's Weill Hall, Lincoln Center, Chicago Cultural Center (Dame Myra Hess Memorial Concerts), Washington DC's Phillips Collection, and many others.
For more, see zuillbailey.com
PROGRAM
J.S. BACH  Suite No. 3 in C Major for Unaccompanied Cello
STRAVINSKY  Suite Italienne
SCHUBERT  "Arpeggione" Sonata
FOSS  Capriccio
Tickets are now on sale at the Honolulu Museum of Art front desk, and online here.