Season Tickets
For the first time in many years, HCMS is lowering our season subscriber rates to $180 for five wonderful concerts. Please purchase by Sept. 1 to receive this additional discount over our already discounted normal season ticket price of $195 (all individual tickets are $48, a savings of $45 for the season). In addition, you will be guaranteed a seat at all concerts, even sold-out shows, and you will be saved the hassle of ordering tickets or standing in line to purchase them. If you join our email list, you will also receive news and program notes online prior to the concerts. Best of all, you will have the satisfaction of supporting a season of diverse, quality chamber music in Honolulu.
Purchasing a season subscription is easy and convenient! Buy season tickets ONLINE by filling out the form to the right and submitting your order at the bottom. To mail us your order, download and print the form below.
Season tickets will be mailed approximately two weeks prior to the first concert. They will also be available for purchase at the Doris Duke Theatre on the evening of the first concert.
Online Season Subscription Form
Mail-in Subscription Form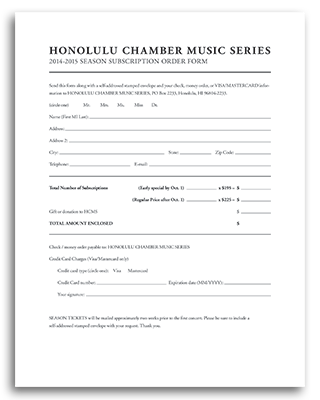 Please download the above document, print, fill out and mail to: The Honolulu Chamber Music Series, P.O. Box 2233, Honolulu, HI 96804-2233
Single Tickets
Tickets for individual performances are $48 and go on sale one month before each concert at the Honolulu Museum of Art website. Tickets may also be purchased the day of the performance at the Doris Duke Theater box office (starting 90 minutes before the announced performance time). Student rush tickets for full-time students with a valid student ID are also available at this time for $20. For more information, please call 532-8700.