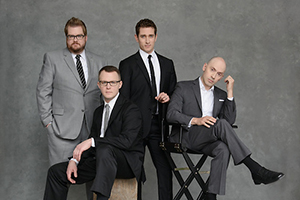 New York Polyphony is unique in today's music world: the four-man vocal ensemble joins the most ancient music in the Western tradition with the most contemporary and cutting-edge, performing all of it with a "rich, natural sound that's larger and more complex than the sum of its parts" (according to National Public Radio.)
A New York Polyphony performance might begin with a mass setting from the time of Henry VIII, and end with another penned just a few years ago (and written for NYP itself). The group's recordings include unearthed Franco-Flemish music from the Renaissance; Christmas carols, songs, and chants; the Missa Charles Darwin, a contemporary mass-like setting of excerpts from the Origin of Species; and the winning entries from an online Gregorian chant remix competition.
The word "polyphony" (Greek for "many sounds") generally refers to music from the Medieval and Renaissance periods, music written for purposes of religious worship, and evoking the solemn and mystical ethos of that long-ago time. Independent of that religious content, there is also a notable purity of sound; and it is that purity which, no matter the repertoire, New York Polyphony brings to the music it sings. The Denver Post puts its finger on the ensemble's appeal:
"In a music world that seems ever more amplified, digitized and engineered, it is not surprising that there is a growing hunger for an antidote: something natural, direct and sure. Perfectly filling the bill is New York Polyphony, an all-male vocal quartet that relies solely on the human voice — simple, unfiltered and unenhanced."
Each of NYP's singers is a successful artist on the opera and recital stage. Together, they have become highly regarded recording artists (with a Grammy nomination and places on every top-ten list around) and are especially popular with radio audiences. Their four albums and several EPs have been called "complex, clear-eyed yet still painfully beautiful," "sumptuously beautiful," and "as clear as a mountain lake, as balanced as Big Ben's clockwork, and as seductive as a Top Chef tasting menu." Meanwhile, the group has appeared on special programs for Minnesota Public Radio,  American Public Media, Public Radio International, and BBC Radio3.
For more, see newyorkpolyphony.com
Tickets available at the door or through UH Outreach College.
PROGRAM: (program notes here)
Regina caeli    FRANCISCO GUERRERO (1528-1599)
Nesciens mater    THOMAS(?) BYTTERING (d. 1420)
Beata progenies/Psalm 117    LIONEL POWER (c.1375-1445)
Speciosa facta es    JOHN DUNSTABLE (c.1380-1453)
Quam pulchra es    JOHN PYAMOUR (d. 1431)
Tota pulchra es    JOHN PLUMMER (c. 1410-c. 1483)
O pia Virgo **    MICHAEL MCGLYNN (b. 1964)
Quae est ista/Surge propera    FRANCISCO GUERRERO
Sicut lilium    ANTOINE BRUMEL (c. 1460-c. 1515)
Ego flos campi/Sub umbra illius    JACOB CLEMENS "NON PAPA" (c.1510-c.1555)
There is no Rose    TRINITY ROLL MS
There is no Rose **    JOHN SCOTT (b. 1956)
There is no Rose **    GEOFFREY WILLIAMS (b. 1976)
Ma fin est mon commencement **    MACHAUT/JACKSON HILL (b. 1941
**Composed for New York Polyphony