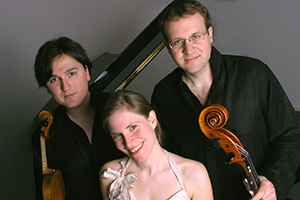 Germany's young Morgenstern Piano Trio has a way of driving critics to superlatives, and audiences into rapture. One example: critic for the Muenchner Merkur, who wrote "The listener heard everything desirable in a chamber music concert: rhythm, precision, balance in sound, and perfect intonation. Above all an organic unity in interpretation. After the last note faded away, the hall was suffocating by silence, as if the audience had to solve a spell before breaking into an orgy of applause." And, hinting at the trio's unusual expressive range, the Fraenkischer Tag writes: "In Smetana's Trio, the drama … reflected all the emotions of this work. The Morgenstern Trio was able to interpret this work compellingly … singing, moaning, and with a haunting cruelty. Ugliness and beauty and deepest sadness, all were formed to an enormous unity."
The Honolulu Chamber Music Series has been trying to lure them to our shores for some years, and we are delighted that we will finally be able to present them to our audience this season.
Founded ten years ago, the trio is named for Christian Morgenstern, a poet known for his very musical nonsense verse (for example, "a sigh went skating on nocturnal ice".) Their choice of name implies an imaginative and intellectual approach. But this should not suggest any lack of technical perfection: the trio has won numerous prizes at competitions, including first prize at the International Joseph Haydn Competition in Vienna, second prize at the Fifth Melbourne International Chamber Music Competition, and second prize and the audience prize at the prestigious ARD Competition in Munich.
In 2009, the trio was awarded the Kalichstein-Laredo-Robinson International Trio Award, the highest distinction for a piano trio, and one that included an appearance in Carnegie Hall and more than 20 concerts in the U.S. In addition, the ensemble has become a fixture at some of Europe's most prestigious music festivals, such as the Pablo Casals Festival in France and Finland's Kuhmo Chamber Music Festival. So far, the trio has recorded two albums: works of Beethoven and Brahms, and twentieth-century trios by Ravel, Germaine Tailleferre, and Jacquelin Fontyn.
For more, see marianneschmockerartists.com