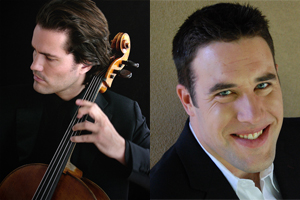 Expect fireworks when cellist Zuill Bailey joins pianist Jonathan Korth at the Doris Duke Theater. Zuill Bailey has impressed audiences wherever he performs. According to one admiring reviewer: "Zuill Bailey tends to win most people over on his first bow stroke, if not sooner … Bailey doesn't play notes. He plays sounds and feelings. His cello is as beautiful as he is, but after watching him play it for awhile, it almost seems as if he becomes one with it and that he is dancing freely as an extension of it."
Internationally-recognized pianist Jonathan Korth will be a familiar face to Hawai'i audiences, and many have experienced his performances in and around Honolulu as well as neighbor islands on series such as the Honolulu Chamber Music Series, Hawaii Concert Society, Chamber Music Hawaii, and faculty concerts at UH Manoa as a soloist, chamber musician, and collaborator.
Tickets are now on sale at the Honolulu Museum of Art front desk, and online here.