The adventurous, genre-defying string quartet Brooklyn Rider combines a wildly eclectic repertoire with a gripping performance style that is drawing critical acclaim from classical, world and rock critics. NPR credits Brooklyn Rider with "recreating the 300-year-old form of string quartet as a vital and creative 21st-century ensemble." The musicians play in venues as varied as Joe's Pub and Alice Tully Hall in New York City, Todai-ji Temple in Japan, Library of Congress, and the San Francisco Jazz Festival. Much of Brooklyn Rider's desire to extend the borders of conventional string quartet programming comes from their longstanding participation in Yo-Yo Ma's Silk Road Ensemble. As individual members of the ensemble, they have performed throughout the world, and recorded three albums for Sony Classical.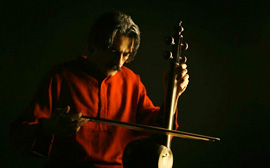 Kayhan Kalhor is a Kurdish Iranian master of Persian music and one of the greatest living players of the kamancheh, a four-stringed, upright Persian fiddle that's tuned like a violin but has a darker tone. He has toured the world as a soloist with ensembles including the New York Philharmonic, the Orchestre National de Lyon, and the Silk Road Project, of which he was an original member. As a composer, he appears on all three of Silk Road's albums, and recently collaborated with Osvaldo Golijov on the soundtrack of Francis Ford Coppola's Youth Without Youth. Three of his recent recordings have been nominated for Grammys. With the Brooklyn Rider Quartet, Mr. Kalhor has recorded the album The Silent CD.
Major support for this program comes from the Roshan Cultural Heritage Institute and the Doris Duke Foundation for Islamic Art.


Learn more about Brooklyn Rider Quartet
Learn more about Kayhan Kalhor