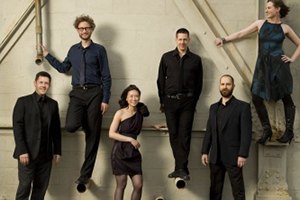 Winners of three Grammies (and counting), contemporary music supergroup eighth blackbird "combines the finesse of a string quartet, the energy of a rock band and the audacity of a storefront theater company." Known for the intensity and hipness of their performances, and the constant inventiveness with which they approach touring and programming, the ensemble's six members (who play violin/viola, cello, flute, clarinet, piano, and percussion) have left a huge imprint on the contemporary music scene.
 Founded at Oberlin College in 1996, and based in Chicago, eighth blackbird takes its name from the Wallace Stevens poem "Thirteen Ways of Looking at a Blackbird," and especially its eighth stanza: "I know noble accents/ And lucid, inescapable rhythms."
The ensemble's noble accents and inescapable rhythms have been heard at concerts the world over, including solo appearances with the Atlanta and Cincinnati Symphonies; in nine recordings, three of which (strange imaginary animals, Lonely Motel: Music from Slide, and Meanwhile) earned those three Grammies; in works commissioned from composers such as Steve Reich, George Perle, Joseph Schwanter, Frederic Rzewski, Jennifer Higdon and Nico Muhly; and during long-term residencies at the University of Chicago and the University of Richmond, and short-term ones at colleges such as the Curtis Institute, Oberlin College, and the Colburn School.
Each concert season for eighth blackbird brings a slate of new projects: for example, staged, memorized productions of Schoenberg's Pierrot Lunaire and of Colombine's Paradise Theatre, in which "composer Amy Beth Kirsten challenges the sextet to play, speak, sing, whisper, growl and mime, breathing life into this tale of dream and delusion," and which has been called a "Tour de Force" by the Washington Post. Whatever program they bring to Honolulu is sure to provoke, please, and inspire.
For more, see eighthblackbird.org
Program: (program notes here)
Selections from Murder Ballades (2013)        Bryce Dessner (1976-)
I. "Omie Wise"
II. "Young Emily"
III. "Wave the Sea"
IV. "Brushy Fork"
whirligig (2013)                                              Lisa Kaplan (1974-)
Songs of Love and Loss:
Duet for Heart and Breath                             Richard Reed Parry (1977-)
Lamento della Ninfa                                        Claudio Monteverdi (1567-1643), arr. by Munro
Moro, lasso al mio duolo                                Carlo Gesualdo (1566-1613), arr. by Munro
Babys                                                                    Bon Iver, arr. by Kaplan
Intermission
Number Nine (2013)                                       Gabriella Smith (1991-)
Counting Duets                                                 Tom Johnson (1939-)
and Études                                                          György Ligeti (1923-2006)
1. Counting Duet #1 (Johnson)
2. Fanfares (Ligeti, arr. by Kaplan)
3. Counting Duet #2 (Johnson)
4. En Suspens (Ligeti, arr. by Munro)
5. Counting Duet #3 (Johnson)
6. Entrelacs (Ligeti arr. by Kaplan)
7. Counting Duet #4 (Johnson)
8. Automne a Varsovie (Ligeti, arr. by Munro)
Tickets are now on sale at the Honolulu Museum of Art front desk, and online here.