Education Services
outreach events in our community
During the 2011-2012 Concert season, HCMS worked closely with the Hawaii Suzuki Teachers Association to help bring the Cavani Quartet to Honolulu. The performers, all faculty members at the Cleveland Institute of Music, presented a series of workshops for Suzuki teachers and students from across the state. The Cavani Quartet's performance for HCMS was attended by many of these same students and teachers. HCMS provided discounted tickets to enable students and their parents to attend this culminating performance.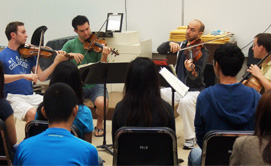 The Doric Quartet, one of Great Britain's leading string quartets, visited the Advanced Orchestra class at McKinley High School. Members of the Quartet explained the structure of a string quartet by individually introducing their instruments and then adding them, one-at-a-time to the ensemble. This special program was funded by a grant from a local donor to support programming by HCMS in Hawaii public schools, where resources are sparse. HCMS also has conducted similar programs for string students at Moanalua Elementary School.
The Doric also visited both the Big Island and Kauai to present concerts and work with young musicians there. HCMS was the lead sponsor for their tour of the neighbor islands.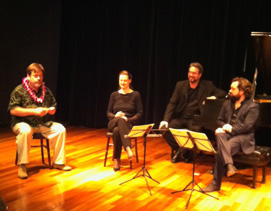 The ATOS Trio, a top-flight young piano trio from Germany, lectured and coached students at the University of Hawaii's Music Department.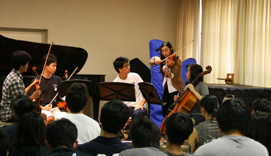 The Parker Quartet from New York, all graduates of the New England Conservatory of Music, coached string quartet students at Punahou School. Punahou's Music School Director Helen Chao-Casano said the Quartet's advice to students was valuable and right on target