The 2017-2018 Honolulu Chamber Music Series Season
At the Mae Z. Orvis Auditorium at the University of Hawai'i-Manoa
All concerts begin at 7:30 p.m. in Orvis Auditorium at the University of Hawaii-Manoa
Greetings from the HCMS President (click to expand)
Welcome to Honolulu Chamber Music Series' 63rd Season! 
Our 2017-2018 season is truly developed for you, the chamber music aficionados. You'll once again experience some of the leading concert artists from around the world in what we expect will be an inspired season of concerts!
You'll have the opportunity to see master pianist Stephen Hough, HCMS favorites Martin Beaver and the Doric String Quartet, and two outstanding emerging ensembles in the Verona Quartet and Trio Rafale. Join us at Orvis Auditorium to experience the full depth of what chamber music can offer, and receive a thoroughly personal experience with both music and musicians.
On a personal note, this season offers a reunion for me. Violinist Martin Beaver was a chamber music mentor and teacher of mine while I was at the Peabody Conservatory, and I had the transformative experience of playing chamber music with him 15 years ago. In December, I'll be lucky enough to share the stage with him again for a concert of sonatas and duos.
If you've never attended our pre-concert talks with the artists, I encourage you to do so. It's a rare opportunity to get up close and personal with the musicians to experience their unique personalities and perspectives, as well as to hear their in-depth commentary on the music. Come early and connect with the artists at the lively pre-concert discussions at 6:30 p.m.
Our heartfelt thanks for being part of our 'ohana, whether you're just joining us or you've been longtime supporters. Our belief is that combining superb chamber music with a willing audience and intimate theater produces an exhilarating and memorable listening experience. Those of you who are longtime season subscribers know that we've achieved this ambition in the past. We look forward to seeing you at the concerts this season!
Aloha,
Jonathan Korth
President
Honolulu Chamber Music Series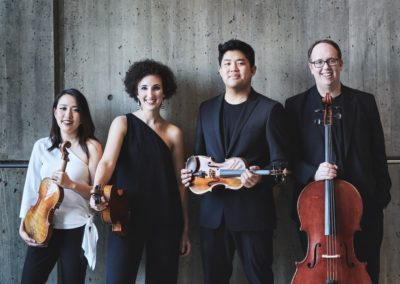 Friday, October 6, 2017
Our season opens with a young quartet specially chosen by three HCMS board members who were awed by their impressive performance at the Banff International String Quartet Competition. Winners of the 2015 Concert Artists Guild Competition and having just finished their quartet program residency at the Juilliard School, the quartet performed across the U.S. and Canada last year at venues as prestigious as Carnegie Hall and Alice Tully Hall. It's an honor for us to host their Hawai'i debut.