Verona Quartet
Friday, October 6, 2017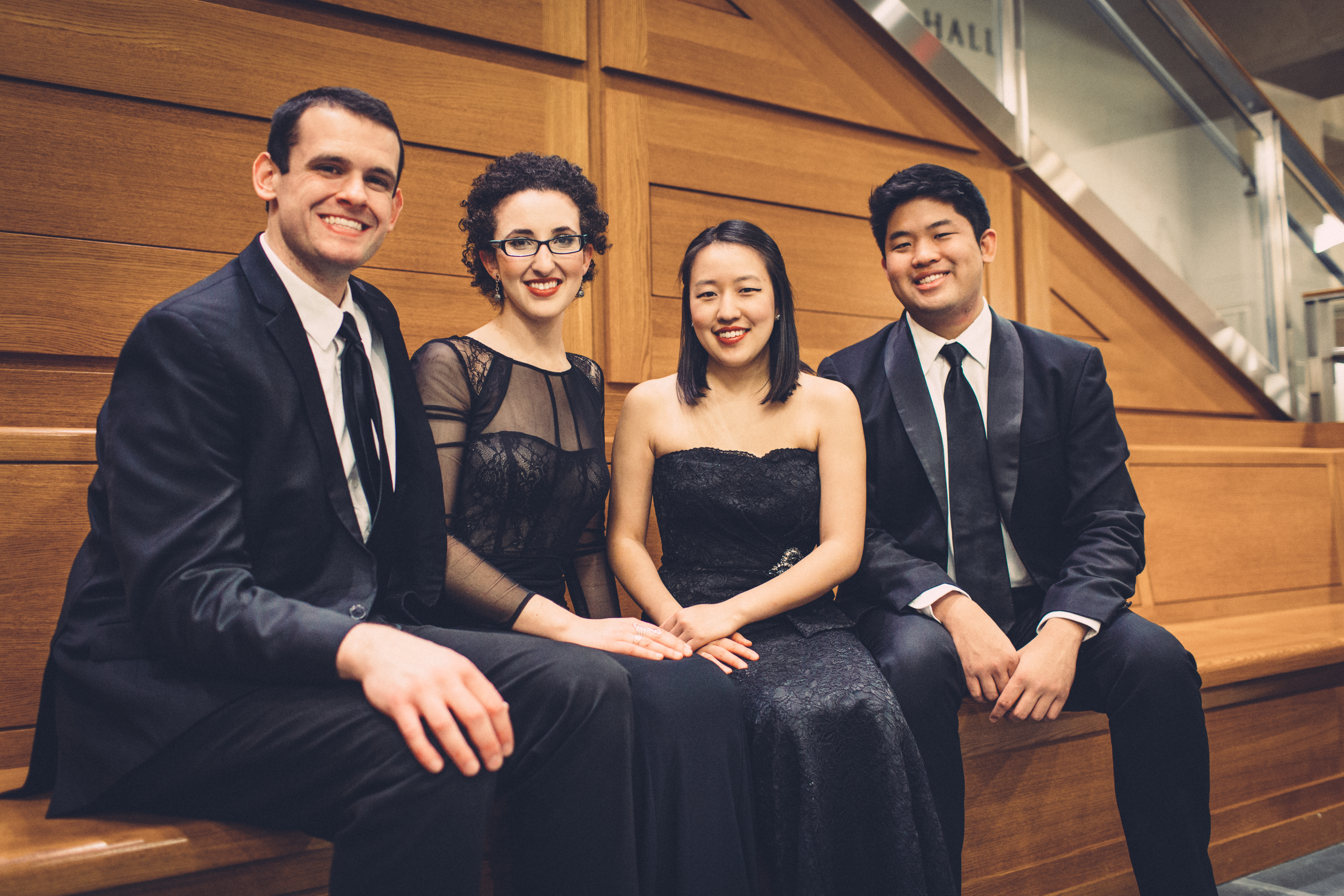 Program
Ravel: String Quartet in F Major (1903)
Sebastian Currier: Etude 2: Interactions, Lullaby 1: Pulsing (**written for the Verona Quartet; 2017)
Beethoven: Quartet Op. 59, No. 2 "Razumovsky"
Program Notes (click to expand)
Maurice Ravel, String Quartet in F
The music of Maurice Ravel is a beautiful mass of contradictions: sensuous yet precise, alive with feeling yet tightly controlled, awash in color but with clear lines showing through, and animated by a passion that remains half-hidden by luxuriant beauty. The poet Tristan Klingsor, one of Ravel's closest friends, summed up some of these contradictions when he spoke of "the ironic and tender heart which beats under the velvet vest of Maurice Ravel."
Ravel lived in an era of rampant nationalism. As a product of his time, he believed that composers ought to be in possession of both an 'individual consciousness' and a 'national consciousness'. This kind of thinking influenced the way he and others thought of his music. Ravel was Swiss on his father's side; Stravinsky called him a "perfect Swiss watchmaker." He was Basque on his mother's side; he once said to a friend that "people are always talking about my having no heart. It's not true, and you know it. I am Basque; the Basques feel deeply but seldom show it, and then only to a very few."
But Ravel was above all a Frenchman, and as such, was grouped together from an early age with Claude Debussy: they were seen as the two French Impressionist composers par excellence. Ravel was thirteen years younger than Debussy, and in his student days had much to do with his older colleague. In 1900, at the age of twenty-five (two years before he began work on his quartet) Ravel was invited to Debussy's apartment to hear excerpts of an opera-in-progress, Pelléas et Mélisande. In 1901 Ravel was hired to make a two-piano transcription of Debussy's orchestral piece, Sirènes. And in 1902, when the completed Pelléas et Mélisande premiered, Ravel attended nearly all fourteen performances given in the first run.
Thus, it was natural that, when Ravel turned to writing a string quartet, he would have somewhere in his mind Debussy's string quartet, written ten years earlier. (Later, Debussy was even invited to attend the dress rehearsal for the Ravel Quartet's premiere.) The two works have much in common: a pizzicato scherzo, a cyclic form in which themes recur from movement to movement, archaic-sounding modal harmony. One critic at the premiere wrote that "in its harmonies and successions of chords, in its sonority and form, in all the elements which it contains and in all the sensations which it evokes, it offers an incredible resemblance with the music of M. Debussy."
Ravel would not have minded the comparison. But was it valid? In later years, as a teacher, Ravel believed in the principle of imitation, suggesting that originality would come about through "unwitting infidelity to the model." And that is precisely what happens here. While Ravel employs some of Debussy's coloristic string effects, with three players joining in shimmering scales behind the melody, his "unwitting infidelity" leads him to replace Debussy's brusque melodies in parallel motion, and habit of repeating short phrases, with long, wistful lines set within broader textures. Rather than evoking Monet's Impressionism, this music resembles what a Gauguin or Matisse painting might sound like.
In the first movement, accompanimental lines begin by inching steadily up and downward, creating horizons of registral space; later, they recede into stillness, near-stasis, or actively fill in space with quick scales and arpeggios. Meanwhile, the melody lands again and again upon irresolute partial cadences, creating a broad, spacious sense of time. The famous pizzicato scherzo is variously thought to be inspired by the Javanese Gamelan, or by a mandolin orchestra.The third movement is a kaleidoscope of muted colors, yearning melodies, and coloristic string effects. In the last movement, Ravel adds into this mix play with alternating meters, 5/8 and 3/4.
Currier, Etude 2, "Interaction"; Lullaby 1, "Pulsing"
Sebastian Currier is one of the most successful and acclaimed composers working today. His orchestral works have been performed by the Berlin Philharmonic and the New York Philharmonic, the San Francisco, Boston, Seattle, and National Symphonies and the Gewandhaus Orchestra. He has written extensively for violinist Anne-Sophie Mutter and Berlin Philharmonic harpist Marie-Pierre Langlamet. His music has been much recorded, with highlights including Time Machines, recorded by Anne-Sophie Mutter and the New York Philharmonic (Deutsche Grammophon); On the Verge, which features chamber works including the Grawemeyer Award-winning Static (Music from Copland House); and Quartetset/Quiet Time, recorded by the Cassatt Quartet, which according to the New York Times "…distances the present from the past, causing the listener to think about music itself." Currier's numerous awards include the Berlin and Rome Prizes, fellowships from Guggenheim and the NEA, and an Academy Award from the American Academy of Arts and Letters. A professor at Columbia University from 1999-2007, he is currently Artist in Residence at the Institute for Advanced Study, in Princeton, New Jersey.
Currier's music is audience-friendly, yet modern and imaginative. The Washington Post describes it as "lyrical, colorful, firmly rooted in tradition, but absolutely new", while the London Times wrote of Time Machines, "if all his pieces are as emotionally charged and ingenious in their use of rethought tonality as this, give me more." Currier's feeling for the lyrical and coloristic possibilities of stringed instruments may be heard in works such as Nighttime Suite for violin and harp, the "Time Flow" movement from Quiet Time, and the "Muted" movement from Quartetset.
Of this evening's pieces, the composer writes: "Etudes and Lullabies is a collection of twelve independent pieces for string quartet: six etudes and six lullabies. For me, these two forms perfectly compliment each other, representing two fundamental and opposing aspects of music: the ability to energize and to soothe. An etude projects struggle, intensity, energy, and triumph over difficulty. A lullaby represents the polar opposite: it projects calm, quiet, intimacy, and letting go. The etude embodies defiance, the lullaby surrender. The piano repertoire has many collections of short pieces: etudes, preludes, nocturnes, preludes and fugues, and so forth. The string quartet, strangely, does not. With this in mind, I wrote this collection. Etudes and Lullabies can be performed separately or together in any combination.
"The Verona Quartet will be performing Etude 2, "Interaction" and Lullaby 1, "Pulsing." In the etude, "Interactions," all the quartet members play essentially the same fast moving line, punctuated by sharp accents. They do not play the line together, however, but in close succession to one another, in break-neck canonic imitation. The lullaby, "Pulsing," consists of two intertwined series of slow moving chords, the first a set of distant, mysterious microtonal chords, the second a progression of simple, peaceful harmonies in Eb Major."
Beethoven Quartet in E Minor, Op. 59, No.2, "Razumovsky"
Though Beethoven's Second "Razumovsky" Quartet enters the world in the key of E minor, its center of gravity is a heavenly slow movement in E major. Regarding the inspiration for this movement, Beethoven's pupil Carl Czerny wrote that the composer was "contemplating the starry sky and thinking of the music of the spheres" when this music came into his head. Even more information comes from Karl Holz, Beethoven's copyist and secretary who also played violin in the Schuppanzigh Quartet (an ensemble which premiered many of Beethoven quartets): While wandering through fields of grain near Baden, the composer looked up into the sky. "The clear stars illuminated the heavens" and he gazed "questioningly, longingly, into the infinite expanse."
It is known that Beethoven had strong ideas about starry skies and infinite expanses. He had a favorite quote from Kant on the subject, underlined various related passages in his books, and according to biographer Maynard Solomon, invoked these images "to symbolize the rarefied sphere of beauty and pure feeling, where 'the active creative spirit' could operate unimpeded by 'the wretched necessities of life.'"
The entry into this world of beauty and spirit is preceded by a highly turbulent first movement. In the words of the Takács Quartet's Edward Dusinberre, "sudden changes of dynamics, unexplained silences and breathless digressions draw us into a drama where emotions are barely under control." In contrast, the slow movement becomes still more celestial.
Beethoven was commissioned to write his three Opus 59 Quartets by the Russian ambassador in Vienna, Count Razumovsky. The count requested that a Russian theme be included in each quartet, and supplied a thick collection of Russian folk tunes for the purpose. Here, in this second "Razumovsky" Quartet, Beethoven used a song called, "Slava Bogu ne nebe Slava," or "Glory to the Sun." It was a tune much loved by Russian composers, three of whom made their own settings (Musorgsky in his opera Boris Godunov, Arensky in a string quartet, and Rachmaninoff in a piano duet. To hear the Musorgsky, click here; for Arensky, click here; and for Rachmaninoff, click here.
Beethoven himself may have loved the tune a bit less. According to musicologist Joseph Kerman, "it sounds as though Count Razumovsky had been tactless enough to hand Beethoven the tune, and Beethoven is pile-driving it into the ground by way of revenge." This pile-driven Russian tune is found in the Trio section of the quartet's scherzo, and Beethoven did enjoy his treatment enough that he returned for a second trio, bucking convention.
The scherzo proper has its own melody, at times tentative, at times sneaky, and eventually, fairly rollicking. The finale, which wants to be in C major but sometimes feels compelled to be in E Minor, is a good example both of Beethoven's ability to write in a light-hearted, Haydnesque manner, and of his tendency to inject more drama into things than Haydn probably would have.
—Sasha Margolis
Our season opens with a young quartet specially chosen by three HCMS board members who were awed by their impressive performance at the Banff International String Quartet Competition. Winners of the 2015 Concert Artists Guild Competition and having just finished their quartet program residency at the Juilliard School, the quartet performed across the U.S. and Canada last year at venues as prestigious as Carnegie Hall and Alice Tully Hall. It's an honor for us to host their Hawai'i debut.
Hailed by The New York Times as an "outstanding ensemble of young musicians", the Verona Quartet is a winner of the 2015 Concert Artists Guild Competition, and in just three years, has earned a stellar reputation for delivering a "sensational, powerhouse performance" (Classical Voice America) every time they take the stage.  Musical America recently selected the group as "New Artists of the Month" for May 2016, further setting the Verona Quartet apart as one of the most compelling young quartets in chamber music.
The Verona Quartet has a busy 2016-17 season with nearly fifty performances spread across fifteen States and Canada. Select highlights include: In New York, the Quartet's Carnegie Hall debut at Weill Recital Hall (CAG Presents series) and the Tilles Center for the Performing Arts at Long Island University; Lincoln Center's Alice Tully Hall (NY); California concerts at La Jolla SummerFest, Pepperdine University Center for the Arts, and Chico Performances at CalState/Chico; Purdue Convocations (IN); Market Square Concerts (PA); and in Illinois at Rockford Coronado Concerts and the Dame Myra Hess Series (simulcast live on WFMT radio).
Also in 2016-17, the Verona Quartet enjoys its second year as Graduate Resident String Quartet at The Juilliard School, where they work closely with members of the Juilliard String Quartet and also teach as Lisa Arnhold Fellows.  Among numerous performances on behalf of Juilliard, the Quartet completes their residency with a May 2017 concert at Lincoln Center's Alice Tully Hall.
The Verona Quartet has performed across four continents in venues such as Wigmore Hall (London, UK), Izumi Hall (Osaka, Japan), the National Theatre (Abu Dhabi, UAE), the Melbourne Recital Hall (Melbourne, Australia), Carnegie Hall and the John F. Kennedy Center for the Performing Arts (Washington, DC). They have also appeared on National Public Radio, The Weekly Specialon PBS, and Abu Dhabi Classical FM.
At the 2015 CAG Competition, the Verona Quartet was also awarded the BMI Commissioning Prize, resulting in a brand new work by American composer Michael Gilbertson being premiered at the ensemble's Carnegie Hall debut in February 2017.  In addition, the group has recently garnered top prizes at numerous prestigious competitions worldwide: abroad at the Wigmore Hall International String Quartet Competition (née London International String Quartet Competition), the Melbourne International Chamber Music Competition and the 8th Osaka International Chamber Music Competition; and in the US at the Coleman, Fischoff, and Chesapeake Chamber Music Competitions; and the M-Prize International Chamber Arts Competition.
The Verona Quartet's members hail from the USA, Canada and Singapore, and hold degrees from Indiana University's Jacobs School of Music, Cleveland Institute of Music, Oberlin Conservatory, Rice University's Shepherd School of Music and Eastman School of Music.  Originally founded as the Wasmuth Quartet in 2013, they were the inaugural Graduate Quartet-in-Residence at Indiana University, where they were mentored chiefly by the Pacifica Quartet, as well as Alexander Kerr, Atar Arad and Eric Kim.  The Quartet has collaborated with celebrated artists such as David Shifrin, Cho-Liang Lin, Burt Hara, Atar Arad, Orion Weiss, Pedja Muzijevic, Jean-Michel Fonteneau, and has worked with members of the Alban Berg, American, Brentano, Cavani, Cleveland, Emerson, Fine Arts, Guarneri, Tokyo, Vermeer and London Haydn Quartets.
Fri, Oct. 6, 2017
7:30 p.m.
Orvis Auditorium
University of Hawaii-Manoa
2411 Dole St.
Honolulu, HI 96822
Prince Preview *new*
Thurs., Oct. 5
6:00 p.m.
(See below for more info)
Individual Tickets
$45 General Admission
$20 Students
Purchase
Or call the the University of Hawaii at Manoa Outreach College at 956-8246 (indiv. tickets only)