Trio Rafale
Friday, March 9, 2018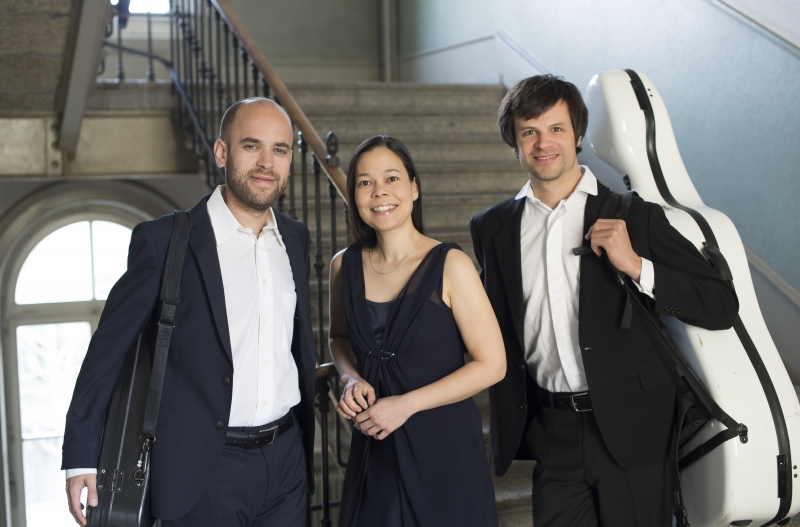 Program
Joseph Haydn: Piano Trio in F-sharp Minor, Hob. XV:26
Charles Ives: Trio
Pyotr Ilyich Tchaikovsky: Trio in A minor, Op. 50
Program Notes (click to expand)
Haydn, Piano Trio in F# minor
It is surprisingly easy for a classical music lover to spend a lifetime learning about the great composers without ever hearing about Haydn's lovelife. Haydn was the Father of the String Quartet. He was the Father of the Symphony. He was the long-suffering kappelmeister stuck wearing livery on the swampy Esterházy estate. But Haydn the lover?
It was in 1760, at the age of twenty-eight, that Haydn married one Anna Maria Keller (sister of Therese Keller, a former object of his affection who had become a nun.) Joseph and Anna Maria didn't get along, and in fact soon hated each other. She took his ingenious scores, repurposing them as hair-curling papers and baking parchment, and probably took lovers, too. This is unlikely to have bothered her husband, as he had a ten-year affair with a married Italian singer named Luigia Polzelli. The overall state of things between Haydn and his wife can be surmised by a letter he wrote to his lover upon the death of her husband: "Dear Polzelli, perhaps, perhaps the time will come, which we both so often dreamt of, when four eyes shall be closed. Two are closed, but the other two …" Meanwhile, Mrs. Haydn was writing to ask her husband for money to purchase a house in Vienna in which she could live after his death.
When Haydn journeyed to London, he seems to have been most favorably impressed by the beauty of English women, and one in particular. As Peter Hobday's book, The Girl in Rose: Haydn's Last Love chronicles, Rebecca Schroeter, born Rebecca Scott, was the forty-year-old widow of a German pianist when Haydn met her in 1791. She and Haydn spent much time together in what were at least ostensibly piano lessons, and he later wrote that she was "a beautiful English widow whom I might have married had I been free to do so." For her part, Schroeter wrote to Haydn that her heart was "full of tenderness for you, but no language can express half the love and affection I feel for you, you are dearer to me every day of my life." She is best remembered today as the recipient of Haydn's dedications for no fewer than six of his piano trios, including this one.
Haydn was at his confident best in the music he wrote for London audiences. The Trio's opening movement begins with a dash of brow-clouding temperament, but soon reveals itself as fundamentally happy. Interestingly, this work shares its singing, elegant Adagio cantabile with Haydn's Symphony No.102. Scholars disagree about which version came first. But it is fascinating to compare the present version, in which the piano plays the main theme, while the violin is given some of the later triplets, with the symphonic setting, in which the violins plays the main theme and the winds play the triplets, while muted trumpets and timpani create a muted color which keeps this larger version close to the world of chamber music. The minuet is no simple dance number. Functioning as a finale, it is lengthier, with temperamental forays into thematic development.
Ives, Piano Trio
Charles Ives' music is not like other composers' music. It is not (or not only) an exploration of pure sound, or of a form based on a set of themes, or of a vague emotion or image. It is highly specific, closely concerned with its composer's intellectual interests, his memories and prejudices, his real-life thoughts and feelings. Ives paints musical portraits of his father, his favorite philosophers, his teachers, his boyhood memories of going to church, his visions of an ideal society. Remembered moments of the past and crucial moments of the present often express themselves in quotation from songs associated with those times – sometimes in earnest, and sometimes in parody. This Piano Trio abounds in quotations of both varieties.
The impetus for the Trio's composition came from Ives' Yale sixth-year reunion. According to Harmony Ives, the composer's wife, "the Trio was, in a general way, a kind of reflection or impression of his college days on the Campus now 50 years ago. The 1st movement recalled a rather short but serious talk, to those on the Yale fence, by an old professor of Philosophy – the second, the games and antics by the Students on the Campus, on a Holiday afternoon, and some of the tunes and songs of those days were partly suggested in this movement, sometimes in a rough way. The last movement was partly a remembrance of a Sunday service on the campus – Dwight Hall – which ended near the 'Rock of Ages.' It was composed mostly in 1904 but fully completed in 1911. Mr. Ives doesn't think it was ever played in a public concert… He isn't quite sure of the TSIAJ over the 2nd movement – he thinks it hardly anything but a poor joke…"
The first movement is, indeed, short and serious. In it, the cello and piano present something, perhaps an argument. The violin and piano then present what might be a counter-argument. Finally, all three instruments play together, blending the two arguments heard in the first two sections. It is tempting to assume that, in Ives' mind, this was a musical version of Hegelian dialectic: thesis, antithesis, synthesis.
TSIAJ is short for "This Scherzo Is A Joke." Since scherzo in Italian means joke, the title would also seem to be a joke. But Ives actually has in mind a specific sort of joke, what he liked to call a "take-off" or "stunt," full of humorous quotation and distortion. Among the many songs from Ives' Yale days making appearances here are "My Old Kentucky Home", "Sailor's Hornpipe", "Ta-ra-ra-boom-de-ay", "Dixie", and "In the Sweet By and By". The last movement quotes "The All-Enduring", a song Ives had written for the Yale Glee Club, and naturally, "Rock of Ages".
Tchaikovsky, Piano Trio in A minor
Anyone perverse enough to dislike Tchaikovsky's Trio might console themselves with one thought: they could probably count on support from Tchaikovsky himself. When, in late 1880, the Russian composer's patron, Nadezhda von Meck, wrote to him suggesting he compose a trio, he wrote back: "Forgive me, dear friend, I would do anything to give you pleasure – but this is beyond me! My acoustical apparatus is so ordered that I simply cannot endure the combination of piano with violin or cello. To my mind the timbre of these instruments will not blend, and I assure you it is a torture to me to have to listen to a trio or sonata of any kind for piano and strings … I shall never produce anything sincerely inspired through the medium of this combination of sounds."
Von Meck didn't push, and in the meantime, an eighteen-year-old pianist and aspiring composer employed in her household at the time – Claude Debussy – did write a trio. But then, about a year after her initial suggestion, Tchaikovsky got back to her out of the blue: "You will be very much astonished. Do you remember how you once advised me to compose a trio … and my reply, in which I frankly told you that I disliked this combination? Suddenly, in spite of this antipathy, I made up my mind to experiment … I have only reconciled myself to the combination of piano and strings in the hope of giving you pleasure … I will not conceal from you that I have had to do some violence to my feelings before I could bring myself to express my musical ideas in a new and unaccustomed form."
Tchaikovsky's perhaps passive aggressive protestations were replaced a month later by hesitant satisfaction: "The trio is finished … the work is not bad … I fear I may have arranged music of a symphonic character as a trio, instead of writing directly for my instruments."
Tchaikovsky, then, did come around to the trio form. However, detractors of the piece might still look to music critic Eduard Hanslick's early review for support: "Tchaikovsky's Piano Trio in A minor was played in Vienna for the first time; the faces of the listeners almost expressed the wish it should be also the last time … It belongs to the category of suicidal compositions, which kill themselves by their merciless length." On the other hand, Hanslick was the same critic who wrote that Tchaikovsky's Violin Concerto "gives us, for the first time, the hideous notion that there can be music which stinks to the ear." Perhaps he is not to be trusted.
The fact is, the piece Tchaikovsky wrote is a magnificent and moving work, powerful and impassioned, and truly inspired, in spite of his predictions. He may have been right about the Trio's symphonic character, but he was wrong to think of it as a defect. (Haydn had already showed, anyway, how easily musical material can transition between trio and symphony.)
The piece makes particular demands on its pianist, who is required to play an almost impossible number of notes over the course of nearly one hundred pages. (Indeed, the Trio is almost a quartet, if you include the page-turner.) It is thus appropriate that Tchaikovsky dedicated the piece to the memory of Nikolai Rubinstein, a virtuoso pianist and close friend who had died in March 1881. (Rubinstein championed his friend's First Piano Concerto, conducted the premiere of the opera Eugene Onegin, and provided Tchaikovsky with both lodgings and a job teaching at the Moscow Conservatory, which he had himself founded.)
The piece is officially divided into two movements. In the first, pezzo elegiaco, or "elegiac piece," Tchaikovsky pours out his melancholy over Rubinstein. The second begins with a simple, heartfelt theme, inspired by the memory of a Moscow Conservatory faculty picnic at the panoramic Sparrow Hills, on the banks of the Moskva River. It seems that Rubinstein had sent food and wine over to some peasant onlookers, and in gratitude, the peasants began performing for the faculty party, folksongs and dances. Tchaikovsky's theme captures the quality of the peasants' music, and is followed by eleven variations traversing a wide range of moods. The last of these variations actually constitutes a third and final movement, at the end of which the pezzo elegiaco's mournful theme and character return.
—Sasha Margolis
Founded in Zurich almost a decade ago, this Swiss piano trio carrying the French name for a gust of wind is another recently emerged ensemble performing primarily in Europe. First prize winners of the Osaka International Chamber Music Competition among many others, this trio has presented concerts at the Lucerne Festival, Konzerthaus Berlin, and Wigmore Hall. They're sure to cap off the season with a rousing performance.
"If young musicians get together for playing chamber music it is always a treat. But to listen to the young Trio Rafale no journey should be too long."
The opener of an article by Oberbadische Zeitung in 2016 about the promising piano trio from Switzerland who carries the French name for a gust of wind, which can be a rough blast or just a warm breeze. Together, agitation and calm are a metaphor for movement in the form of music.
An offer to perform Ravel's piano trio in spring of 2008 brought the three young students of the Zurich University of the Arts together. After the concert, they decided to pursue working together and started studying with Eckart Heiligers. From 2014 to 2015 the Trio Rafale was coached by Rainer Schmidt in Basel. Furthermore, they received valuable artistic input from Eberhard Feltz and Bernhard Greenhouse among others.
Since its foundation the trio has performed numerous concerts in all major cities of Switzerland and was a guest in 2012 at the "Lenzburgiade" and the "Hitzacker Musiktage" among others. In summer of 2013 the Trio Rafale made their successful debut in Paris and was invited once more to Hitzacker. They were on tour in autumn 2013 with the Swiss Youth Symphony Orchestra under the direction of Kai Bumann performing Beethoven's triple concerto. In the past seasons the trio played concerts in Frankfurt, Hamburg, Munich, Ulm as well as at the Schleswig-Holstein Music Festival and the Davos Festival – young artists in concert.
Highlights have also been their debut at the Wigmore Hall London (October 2014) with the Swiss Ambassador's Award Concert, followed by performances in Cardiff, Edinburgh and Belfast, as well as concerts at the Prague Spring Festival and at the "Niedersächsische Musiktage" in Hannover.
During the season 2015/16 the Trio Rafale was performing in the Berlin Philharmonie, the "Alte Oper" in Frankfurt and in Moscow at the "December Nights of Sviatoslav Richter" among others. In November 2015 they were extensively touring Japan followed by a concert in South Korea (Tongyeong Concert Hall). The Trio Rafale won 1st prizes at the Melbourne International Chamber Music Competition (July 2011) and the Osaka International Chamber Music Competition (May 2014). Both are among the most prestigious chamber music competitions in the world. Also worth noting are the 1st prize at the "Concours National pour Trio Instrumental Prix Geraldine Whittaker" of the Jeunesses Musicales de Suisse (2010) as well as the 1st prize and the audience prize at the Migros Culture Percentage Ensemble Award 2013. In 2014 the trio was awarded an important scholarship by the city of Zurich, distinguishing their musical achievements. In 2016 they made a guest appearance at Lucerne Festival with works of Beethoven, Boulanger and Schoenberg. Since the same year the trio is part of the Mentoring Program of Beethoven-Haus in Bonn. In this context the trio will play a debut concert in spring 2017.
Highlights of the current season are an engagement at Konzerthaus Berlin and a collaboration with the Kammerphilharmonie Graubünden.
Their debut CD with works by Schumann and Ravel appeared in 2012 (label monton). A second CD with works by Vasks and Brahms was released in 2013 (label Acousence). In February 2017 their newest CD followed with early works of Debussy, Rachmaninov, Shostakovitch and Henze, further a piece written for the trio by Swiss composer Jannik Giger.