Stephen Hough
Friday, October 27, 2017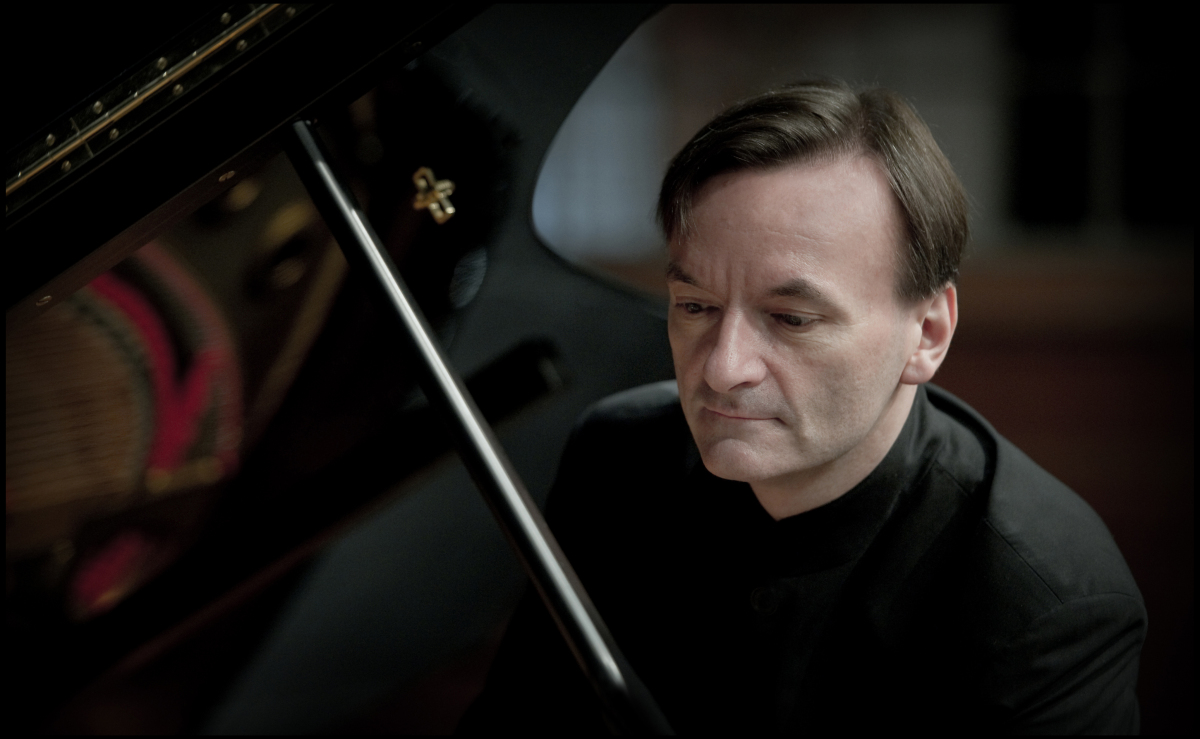 Program
Debussy, "Clair de lune" from Suite bergamasque
Debussy Images, Book II
Schumann, Fantasy in C Major
Debussy, "La terrasse des audiences du clair de lune" from Preludes, Book II
Debussy, Images, Book I
Beethoven, Piano Sonata No. 23 in F Minor, Op. 57, "Appassionata"
Program Notes (click to expand)
Steven Hough writes: "In a previous season I placed Debussy and Chopin side by side in a sandwich-like programme, wanting to highlight the empathy between them in their love for and understanding of the sound of the piano. In this recital I'm trying for the opposite effect – for contrast, even opposition.
"Debussy's triptychs are his piano sonatas, even if their descriptive, entitled movements stand alone as sensual paintings with mystical suggestions. The two German sonatas (Schumann's Fantasie is one in all but name and was conceived as a tribute to Beethoven) are abstract, classical forms. They are also, arguably, the two composers' greatest works for the instrument.
"The Schumann begins with a wash of colour under which the right hand declaims its ardent melody but this is not an impressionist gesture. He may dream of spires but he is always conscious of the architecture of musical form, whereas Debussy seems so often to take delight in mere atmosphere for its own sake: incense floating in the air; the surprise of shimmering, sparkling colours.
"And Beethoven … in this piece! All sophisticated pianistic veneer is stripped away in one of the most incendiary, elemental works ever written. If there is perfume here it is the scent of gunpowder. Three of the Debussy works on this programme contain the image of the moon in their titles, and perhaps the imaginative soul can discern a lunar glow shining on the lovers in the third movement of Schumann's Fantasie, but Beethoven shakes a mighty fist from​ Mars."
Debussy, "Clair de Lune" from Suite bergamasque
Clair de lune means, simply, moonlight. But Debussy does not have just any moonlight in mind. He's thinking of the moonlight described by one of his favorite poets, Paul Verlaine, in the poem "Clair de Lune": "Your soul is a delicate landscape, where charming masques and bergamasques roam, playing the lute and dancing, and almost sad under their fantastic disguises. While singing in a minor key of victorious love and easy life, they don't seem to believe in their happiness, and their song mingles with the moonlight, with the sad and beautiful moonlight, which makes the birds in the trees dream, and the fountains sob with ecstasy, the slender fountains among the marble statues."
This brief poem expresses myriad dimensions of deception and unreality. Verlaine is describing someone's soul – his own, or the reader's, or a lover's – as a painting, a painting which depicts a masquerade party, set in a formal garden. The masques are costumed partygoers, nymphs and shepherds and the like, while the bergamasques are partygoers dressed specifically as Harlequin and Pierrot. (In the Italian improvised theater called Commedia dell'Arte, both of these clownish characters hailed from the town of Bergamo, whence the term bergamasque.) The moonlight in Debussy's piece, then, is a moonlight imbued with human melancholy and longing, trapped within layers of costume and paint and soul.
Debussy, Images, Book II
Cloches à travers les feuilles ("Bells through the leaves") was inspired by a letter from Debussy's close friend Louis Laloy, sent during a countryside vacation. "I told him," Laloy later wrote, "about the touching use of the knell which sounds from vespers on All Saints' Day until the Requiem Mass, ringing from village to village, across the forests with their yellowing leaves, in the silence of the evening."
Laloy also suggested the evocative title Et la lune descend sur le temple qui fut ("And the moon descends over the temple that was".) Laloy, an ethnomusicologist, claimed the title was "in Chinese style." The musical material is in fact Asian; scholars have traced various elements to Japanese, Chinese, and Indian traditions.
Debussy had a lifelong interest in Asian art. Manuel de Falla remembered a study in his house "full of Japanese and Chinese masks." But Debussy's favorite objet was a Japanese lacquer plaque, depicting two carp and a willow branch. The plaque, which inspired Poissons d'or ("Goldfish"), may be seen on this webpage.
Schumann, Fantasy for Piano in C Major, Op.17
While the statues in "Clair de Lune" exist only in the soul, a very real statue figures in the history of Schumann's Fantasy. In 1836, nine years after Beethoven's death, admirers of that great composer decided to erect a monument in his honor, in his hometown of Bonn. A call was put out to music-lovers, to help raise funds. And the twenty-six-year-old Schumann answered, formulating a grand plan. He would write a new work, entitled Modest Contributions to Beethoven's Monument: Ruins, Trophies, Palms. He would then publish it in a limited edition with gold trim and black binding, and contribute the proceeds for the monument. Sadly, his plan was a bit too grand. He succeeded in completing only the first step, and by the time the piece was published, in more modest fashion and behind schedule, it had been renamed Fantasy.
But this is only half the history of the piece. Schumann wrote to his wife Clara, "You can only understand the Fantasy if you go back to the unhappy summer of 1836 when we were separated." In 1836, the Schumanns-to-be were not yet married, and had been forced apart by Clara's father, who hoped to make the separation a permanent one. "The first movement," Robert wrote, "may well be the most passionate I have ever composed–a deep lament for you."
Imbuing their history with mythological significance, Schumann instructs that the opening movement "be played in an entirely fantastic and passionate manner" and "in the manner of a legend." Of the march-like second movement ("moderato, with energy"), Clara herself wrote: "It makes me hot and cold all over." In the finale ("slow and solemn, to be kept soft throughout"), the themes of Beethoven and separated love come together in the form of a musical citation. Schumann, his head full of thoughts of Clara, quotes Beethoven's song cycle An die ferne geliebte–"To the distant beloved."
Debussy, "La terrasse des audiences du clair de lune"          
When the Beethoven monument was finally completed in 1845, its unveiling occasioned a three-day music festival. A still grander ceremony was the catalyst for Debussy's last-composed prelude, the name of which means something like "The Terrace for Spectators in the Moonlight." The Delhi Durbar, held in December 1911, gathered nothing less than the entire landed gentry of India to see King George V and Queen Mary of England crowned as India's Emperor and Empress. A French journalist, René Puaux, witnessed the event, and in writing about it for Le Temps, described "the hall of victory, the hall of pleasure, the garden of the sultanas, the terrace for spectators in the moonlight." The last line seems to have stuck in the mind of the moonstruck Debussy, and was eventually transmuted into this piece.
Debussy, Images, Book I
Moonstruck as Debussy was, he drew perhaps still greater inspiration from water. In "Reflets dans l'eau" ("Reflections in the water"), the opening motif represents "a little circle in water with a little pebble falling into it" (according to pianist Marguerite Long.)
"Hommage à Rameau" is a tribute in the form of a sarabande. Jean-Philippe Rameau, France's great eighteenth-century composer, was regarded by Debussy as a strictly Gallic forebear who could replace excessively Germanic models such as Beethoven. Debussy even served as one of the editors of a complete Rameau edition being published at the time he wrote his Images, and wrote to Laloy of "the perfect taste, the strict elegance, which form the absolute beauty of Rameau's music."
"Mouvement" is the rare Debussy piece lacking a picturesque title; but the composer supplied a highly visual instruction, saying that the music "must revolve itself in an implacable rhythm."
Beethoven, Sonata No. 23 in F Minor, Op. 57, "Appassionata"
The "distant beloved" in Beethoven's song cycle (quoted in Schumann's Fantasy) may have been a real woman. And she may have been the same woman as the "Immortal Beloved," addressed by Beethoven in a famous unsent love letter. This woman's identity has never quite been ascertained. But two subjects of most frequent speculation are a pair of sisters, Josephine and Therese Brunsvik. The "Appassionata" Sonata is officially dedicated to their brother, Count Franz von Brunswick. But various Beethoven scholars have put forward an intriguing theory that this dedication was really a sort of cover story. The theory hinges on musical evidence: in the sonata's first movement, the first and second themes are closely related–they grow out of the same rhythmic cell, and melodically, are both essentially arpeggiated chords. The first theme is passionate in nature, as Josephine was said to be; the second more placid, like Therese. The movement, then, made out of two sister-themes, reflects Beethoven's varied passions for the two.
The "Appassionata" has invited comparisons to Macbeth, King Lear, and the tragedies of Corneille. The outer movements are indeed as dramatic as any great tragedy. The Andante con moto, a theme and variations, is a brief oasis of what musicologist Donald Tovey termed "sublime inaction." Regarding the finale, Beethoven's pupil Carl Czerny wrote: "If Beethoven, who was so fond of portraying scenes from nature, was perhaps thinking of ocean waves on a stormy night when from the distance a cry for help is heard, then such a picture will give the pianist a guide to the correct playing of this great tonal painting."
—Sasha Margolis
A renaissance man of his time, Stephen Hough has secured a reputation as a uniquely insightful concert pianist with a long-standing international following as a writer and composer as well. In 2001, he became the first classical performing artist to win a MacArthur Foundation Fellowship. He's appeared with most of the major European and American orchestras and plays recitals regularly in major halls and concert series around the world.
Stephen Hough is regarded as a renaissance man of his time. Over the course of his career he has distinguished himself as a true polymath, not only securing a reputation as a uniquely insightful concert pianist, but also as a writer and composer. Mr. Hough is commended for his mastery of the instrument along with an individual and inquisitive mind which has earned him a multitude of prestigious awards and a long-standing international following.
In 2001 Mr. Hough was the first classical performing artist to win a MacArthur Foundation Fellowship. He was awarded Northwestern University's 2008 Jean Gimbel Lane Prize in Piano, won the Royal Philharmonic Society Instrumentalist Award in 2010 and in January 2014 was made a Commander of the Order of the British Empire by Queen Elizabeth in the New Year's Honors List. He has appeared with most of the major European and American orchestras and plays recitals regularly in major halls and concert series around the world. His recent engagements include recitals in Chicago, Hong Kong, London, New York's Carnegie Hall and Lincoln Center, Paris, Boston, San Francisco, the Kennedy Center and Sydney; performances with the Czech, London and New York Philharmonics, the Chicago, Boston, Pittsburgh, San Francisco, St. Louis, National, Detroit, Dallas, Atlanta and Toronto symphonies, and the Philadelphia, Minnesota, Budapest Festival and Russian National Orchestras; and a performance televised worldwide with the Berlin Philharmonic and Sir Simon Rattle. He is also a regular guest at festivals such as Aldeburgh, Aspen, Blossom, Edinburgh, Hollywood Bowl, Mostly Mozart, Salzburg, Tanglewood, Verbier, Chicago's Grant Park, Blossom, and the BBC Proms, where he has made over 20 concerto appearances, including playing all of the works written by Tchaikovsky for piano and orchestra over the summer of 2009, a series he later repeated with the Chicago Symphony.
Mr. Hough's 15/16 season begins with an extensive tour to Asia, which includes complete Beethoven cycles in Australia and Singapore, followed by recitals in Beijing, Taipei and Tokyo. That season continues with return appearances with the Cleveland Orchestra, Los Angeles Philharmonic, and the San Francisco, Montreal, Houston, Vancouver and New Jersey symphonies among others in North America as well as re-engagements with the London Philharmonic Orchestra and the Finnish Radio Symphony Orchestra in Europe; and recitals at New York's 92nd Street Y, London's Barbican Centre, and in Quebec, Kansas City and at Dartmouth and Northwestern University.
Many of Mr. Hough's catalogue of over 50 albums have garnered international prizes including the Deutsche Schallplattenpreis, Diapason d'Or, Monde de la Musique, several Grammy nominations, eight Gramophone Magazine Awards including 'Record of the Year' in 1996 and 2003, and the Gramophone 'Gold Disc' Award in 2008, which named his complete Saint-Saens Piano Concertos as the best recording of the past 30 years. His 2012 recording of the complete Chopin Waltzes received the Diapason d'Or de l'Annee, France's most prestigious recording award. His 2005 live recording of the Rachmaninoff Piano Concertos was the fastest selling recording in Hyperion's history, while his 1987 recording of the Hummel concertos remains Chandos' best-selling disc to date. His most recent releases, all for Hyperion, include Grieg Lyric Pieces; a recording of his mass, "Missa Mirabilis," with the Colorado Symphony and Andrew Litton; a recital disc with Steven Isserlis including Mr. Hough's Sonata for cello and piano (Les Adieux); a solo recital of Scriabin and Janacek; and the Dvorak and Schumann concertos with the CBSO and Andris Nelsons.
Mr. Hough is also the featured artist in an iPad app about the Liszt Piano Sonata, which includes a fully-filmed performance and was released by the cutting-edge, award-winning company Touch Press.
Published by Josef Weinberger, Mr. Hough has composed works for orchestra, choir, chamber ensemble and solo piano. His "Mass of Innocence and Experience" and "Missa Mirabilis" were respectively commissioned by and performed at London's Westminster Abbey and Westminster Cathedral. In 2012, the Indianapolis Symphony commissioned and performed Mr. Hough's own orchestration of "Missa Mirabilis," which was subsequently performed by the BBC Symphony as part of Mr. Hough's residency with the orchestra. Mr. Hough has also been commissioned by the musicians of the Berlin Philharmonic, the Gilmore Foundation, London's National Gallery, Wigmore Hall, Le Musée de Louvre and Musica Viva Australia among others.
A noted writer, Mr. Hough regularly contributes articles for The Guardian, The Times, The Tablet, Gramophone and BBC Music Magazine and wrote a blog for The Telegraph for seven years which became one of the most popular and influential forums for cultural discussion and for which he wrote over six hundred articles. His book, The Bible as Prayer, was published by Continuum and Paulist Press in 2007. Mr. Hough resides in London where he is a visiting professor at the Royal Academy of Music and holds the International Chair of Piano Studies at his alma mater, the Royal Northern College in Manchester. He is also a member of the faculty at The Juilliard School.