Martin Beaver with Jonathan Korth
Saturday, December 2, 2017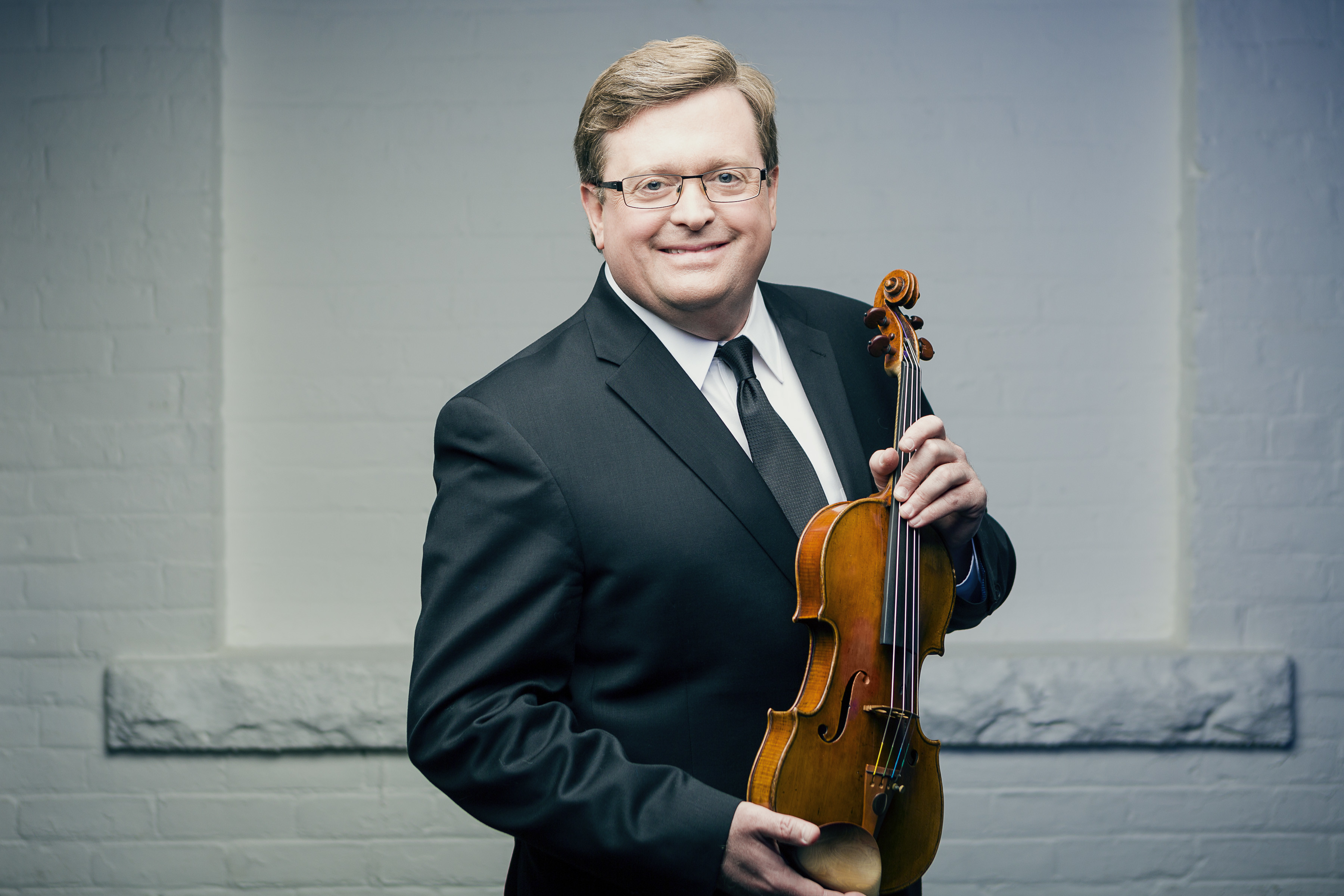 Program
Beethoven: Violin Sonata No. 7 in C minor, Op. 30, No. 2
Bach: Chaconne from Partita for solo violin No. 2 in D minor, BWV 1004
Fauré: Violin Sonata No. 1 in A Major, Op. 13
Ravel: Tzigane, rhapsodie de concert, for violin & piano
Program Notes (click to expand)
Beethoven, C Minor Sonata
Beethoven had a special affinity for the key of C minor, and chose it for his most turbulent, impatient, extrovert music. His C minor works share a vocabulary of expressive devices: the Fifth Symphony, the Third Piano Concerto, the Coriolan Overture, all open with short phrases, punctuated by silence, pregnant with half-stated meaning, and constructed out of skeletal chord notes. The same features characterize the opening of the present sonata. The piano plays an impatient, foreboding first theme, outlining an accelerating series of chords starting with C minor. The agitation and foreboding only increase when the violin takes up the theme and the piano rumbles down below. An explosion of chords helps to clear the air –similar to what occurs early in the fourth Opus 18 quartet – and then a rather trivial march ensues, which soon, however, becomes infected with the movement's general temperament. Things proceed this way until the movement ends in utter upheaval.
The Adagio cantabile presents a gorgeous, lyrical contrast, with moments of suspense, while in the Scherzo, Beethoven plays rhythmic tricks, establishing a triple meter and then undermining it. The finale is a battle between C minor grimness and a few lighthearted secondary themes. In the coda, furious C minor wins out.
This sonata is one in a set of three, Opus 30 Nos. 1-3, which, though called Sonatas for Pianoforte with the Accompaniment of Violin (as were Mozart's works for the two instruments), reflect a historical transition to equal partnership. The intended violinist was Ignaz Schuppanzigh, who premiered so many of Beethoven's sonatas and quartets. The Opus 30 sonatas were written in 1801-2, and dedicated to Tsar Alexander I of Russia, who was visiting Vienna at the time. The young Tsar was a military hero of recent vintage. It's possible that the C minor sonata's fury, and its first movement march, were meant to appeal to or even portray Alexander's heroics.
The composer and the tsar appear to have agreed on the terms of a commission, and Beethoven received a diamond as downpayment. The tsar, however, seems to have been one of those world leaders who promise all kinds of things without intending to come through. Beethoven had to wait twelve years to receive his full fee. This happened on the Tsar's next visit, which he made accompanied by his wife. It seems that Tsarevna Elizabeth loved the polonaise. Beethoven wrote her one, and her resulting pleasure softened up Alexander, who finally paid what he owed.
Bach, Chaconne
Concerning Bach's Chaconne for solo violin, Johannes Brahms wrote: "On one stave, for a small instrument, the man writes a whole world of the deepest thoughts and most powerful feelings. If I imagined that I could have created, even conceived the piece, I am quite certain that the excess of excitement and earth-shattering experience would have driven me out of my mind."
The chaconne is based on a repeating bass line, heard sixty-four times (or thirty-two, depending on how you count.) This repetition is responsible for the work's monumentality, building a hypnotic and powerful structure beneath the myriad details. It is an incredible historical improbability that the chaconne genre originated as a Latin American dance, imported by Spanish conquerors a century before Bach's time, and ended up sounding like this. It is as if a dancer's flouncing hip had been petrified into a cathedral's flying buttress.
Bach was a devoutly religious man, and wrote a great deal of explicitly religious choral music. But it's difficult to know whether the Chaconne ought to be understood in a religious context. Bach copied out his Six Solo Sonatas and Partitas, from which the Chaconne is extracted, in 1720, when he was in the employ of a prince who preferred secular, instrumental music. (While in Prince Leopold's employ, Bach wrote the Brandenburg Concertos, Book I of the Well-Tempered Clavier, the suites for solo cello, and many other works of purely instrumental music.) But it is possible that he wrote the Sonatas and Partitas earlier, when his employment was of a more explicitly religious kind, or that he was always thinking in religious terms, no matter his employer's preferences. Arnold Steinhardt has speculated that the Chaconne's three sections – minor, then major, and then minor again – represent the Holy Trinity. Others point out that the work was written following the death of Bach's first wife, and believe it to be a sort of musical epitaph. Whatever the case, the Chaconne is certainly exalted and spiritual, and one of the great masterpieces not only of the violin repertoire, but of European music.
Fauré, Sonata in A Major
Gabriel Fauré's Sonata in A Major, written in 1877, was the first great French violin sonata of the nineteenth century, predating those written by Franck and Fauré's piano teacher/mentor, Saint-Saëns. Throughout most of the century, French violin-piano music was written in a concertante style that focused more on flash than substance. Fauré's sonata was something new, and in a gentle way, revolutionary. Saint-Saëns wrote in a review: "In this sonata you can find everything to tempt a gourmet: new forms, excellent modulations, unusual tone colors, and the use of unexpected rhythms. And a magic floats above everything, encompassing the whole work, causing the crowd of usual listeners to accept the unimagined audacity as something quite normal. With this work Monsieur Fauré takes his place among the masters."
The piece is, more than anything else, songful – not surprisingly, for a composer who composed over a hundred chansons. The textures are often simple, as at the outset of the Andante, allowing the ear to focus easily upon the melody. Even when the piano part is at its thickest and most active, as at the sonata's opening, the activity seems to arise from a desire to express, rather than impress.The melodies tend toward a gradual unfolding, as if Fauré is setting very long lines of poetry. As they unfold, Fauré will often channel the harmony from an initial major-key simplicity into related minor keys, lending a profoundly ambivalent air to the proceedings, and eliciting deeper expression from the performers. Perhaps this is the "magic" Saint-Saëns refers to.
The sonata is dedicated to violinist Paul Viardot, the scion of an eminent Franco-Spanish operatic family. Fauré's relations with this family may cast some light on the sonata. He was introduced by Saint-Saëns to Paul's mother, Pauline Viardot, a great opera singer and voice teacher. (Her father, Manuel Garcia, was creator of the role of Count Almaviva in Rossini's Barber of Seville, while her sister Maria Malibran was one of the century's brightest operatic stars.) Pauline maintained one of Paris' most fashionable salons, and it was there that Fauré met Paul's sister Marianne. He fell in love at once, and at the time he was writing this sonata, was hoping to get her to marry him. Shortly after the sonata's premiere, the two did become engaged. But after only three months, Marianne, alarmed by Fauré's ardor, broke it off, and soon married someone else. It isn't difficult to imagine, nonetheless, that this music's magic may have arisen from his feelings for her.
Ravel, Tzigane
Tzigane, written by Fauré's student Maurice Ravel, owes its existence to the events of a rather wild musical night. It was 1922, in London. The Hungarian virtuosa Jelly d'Arányi (a grand-niece of the violinist Joseph Joachim) was performing two contemporary pieces: Bartók's First Sonata, with its composer at the piano, and Maurice Ravel's Sonata for Violin and Cello, with its composer in attendance. After the concert, she launched into her specialty: an endless string of "Gypsy airs," which she played till 5am. Throughout the night, her most avid listener was Ravel.
In fact, the Frenchman was very taken with both Bartók's work and d'Arányi. He wrote soon after to his fellow composer, "You have inspired me to write a short piece of diabolical difficulty, conjuring up the Hungary of my dreams. Since it will be for violin, why don't we call it 'Tzigane'?"
Tzigane is one of the words in French which may be translated as "Gypsy," a term which, nowadays considered offensive by the Roma people, was for many years synonymous, from a musical point of view, with "Hungarian." The genre of Hungarian/"Gypsy" music encompassed such things as Liszt's Hungarian Rhapsodies, Brahms' Hungarian Dances, Sarasate's Zigeunerweisen, Monti's Csárdas, Hubay's Hejre Kati, along with many lesser known treasures, all of which collectively served to inspire Ravel.
Following that magical night in London, a delay of two years occurred before Ravel actually wrote Tzigane. It was premiered by d'Arányi in London on April 26th, 1924. The critic for the Times was uncertain what to make of the piece: "It is rhapsodical in the literal meaning of the word, being a series of episodes in the Hungarian manner strung together. One is puzzled to understand what M. Ravel is at. Either the work is a parody of the Liszt-Hubay-Brahms-Joachim school of Hungarian violin music and falls into the class of La Valse, or it is an attempt to get away from the limited sphere of his previous compositions to infuse into his work a little of the warm blood it needs."
Audiences, however, loved it, and still do.
—Sasha Margolis
Back in Honolulu by popular demand, Martin Beaver feels at home in the Islands performing on the intimate stage venue for HCMS. Best known as first violinist for the world renowned Tokyo String Quartet from 2002 until their final season in 2013, Beaver is now in demand worldwide for his solo artistry. He's truly one of Canada's ambassadors to the international concert stage. If you're familiar with his performance here in the past, you're sure to be more than satisfied by his return engagement. He'll be joined on stage by pianist and HCMS president, Jonathan Korth.
Canadian violinist Martin Beaver was First Violin of the world-renowned Tokyo String Quartet from June 2002 until its final concert in July 2013.  As such, he appeared to critical and public acclaim on the major stages of the world including New York's Carnegie Hall, London's Wigmore Hall, the Berliner Philharmonie, Tokyo's Suntory Hall and the Sydney Opera House.
As a member of the Tokyo String Quartet, Mr. Beaver was privileged to perform on the 1727 Stradivarius violin from the "Paganini Quartet" set of instruments, on generous loan to the quartet from the Nippon Music Foundation.  Recordings of the Tokyo String Quartet during his tenure notably include the complete Beethoven quartets on the Harmonia Mundi label.
Mr. Beaver's concerto and recital appearances span four continents with orchestras such as the San Francisco Symphony, the Toronto Symphony, l'Orchestre Philharmonique de Liège and the Sapporo Symphony Orchestra and under the batons of Kazuyoshi Akiyama, Raymond Leppard, Charles Dutoit and Yannick Nézet-Séguin among others.  Chamber music performances include collaborations with such eminent artists as Leon Fleisher, Pinchas Zukerman, Lynn Harrell, Sabine Meyer and Yefim Bronfman.
Mr. Beaver is a regular guest at prominent festivals in North America and abroad. Among these are: the Seattle Chamber Music Festival, La Jolla Summerfest, the Santa Fe Chamber Music Festival, Chamber Music Northwest, the Norfolk Chamber Music Festival, the Edinburgh Festival (U.K.) and Pacific Music Festival (Japan).
Mr. Beaver's discography includes concerti, sonatas and chamber music on the Harmonia Mundi, Biddulph, Naim Audio, René Gailly, Musica Viva, SM 5000 and Naxos labels.  His recorded repertoire ranges from Bach, Beethoven and Brahms to the music of living composers Alexina Louie and Joan Tower.
Following his early studies with Claude Letourneau and Carlisle Wilson, Mr. Beaver was a pupil of Victor Danchenko, Josef Gingold and Henryk Szeryng.  He is a laureate of the Queen Elisabeth, Montreal and Indianapolis competitions. Subsequently, he has served on the juries of major international competitions including the 2009 Queen Elisabeth and 2010 Montreal competitions, the 2014 and 2017 Osaka International Chamber Music Competitions and the 2015 Melbourne International Chamber Music Competition.
Over the course of his career, Mr. Beaver has been the grateful recipient of generous support from the Canada Council for the Arts.  This includes Arts Grants for his studies at Indiana University, Career Development Grants and the 1993 Virginia-Parker Prize.  In 1998, through the kindness of an anonymous donor, the Canada Council awarded Mr. Beaver the use of the 1729 "ex-Heath" Guarnerius del Gesù violin for a four-year period.
A devoted educator, Mr. Beaver has conducted masterclasses throughout North and South America, Europe, Asia and Australia.  He has held teaching positions at the Royal Conservatory of Music, the University of British Columbia and the Peabody Conservatory.  More recently, he served on the faculty of New York University and as Artist in Residence at the Yale School of Music, where he was awarded its highest honor – the Sanford Medal.  He joined the faculty of the Colburn Conservatory of Music in Los Angeles in August 2013 as Professor of Violin and Co-Director of String Chamber Music.
Martin Beaver is proud to be a founding member of the Montrose Trio with pianist Jon Kimura Parker and cellist Clive Greensmith.
Mr. Beaver plays a 1789 Nicolo Bergonzi violin.