Eroica Trio
Saturday, February 11, 2017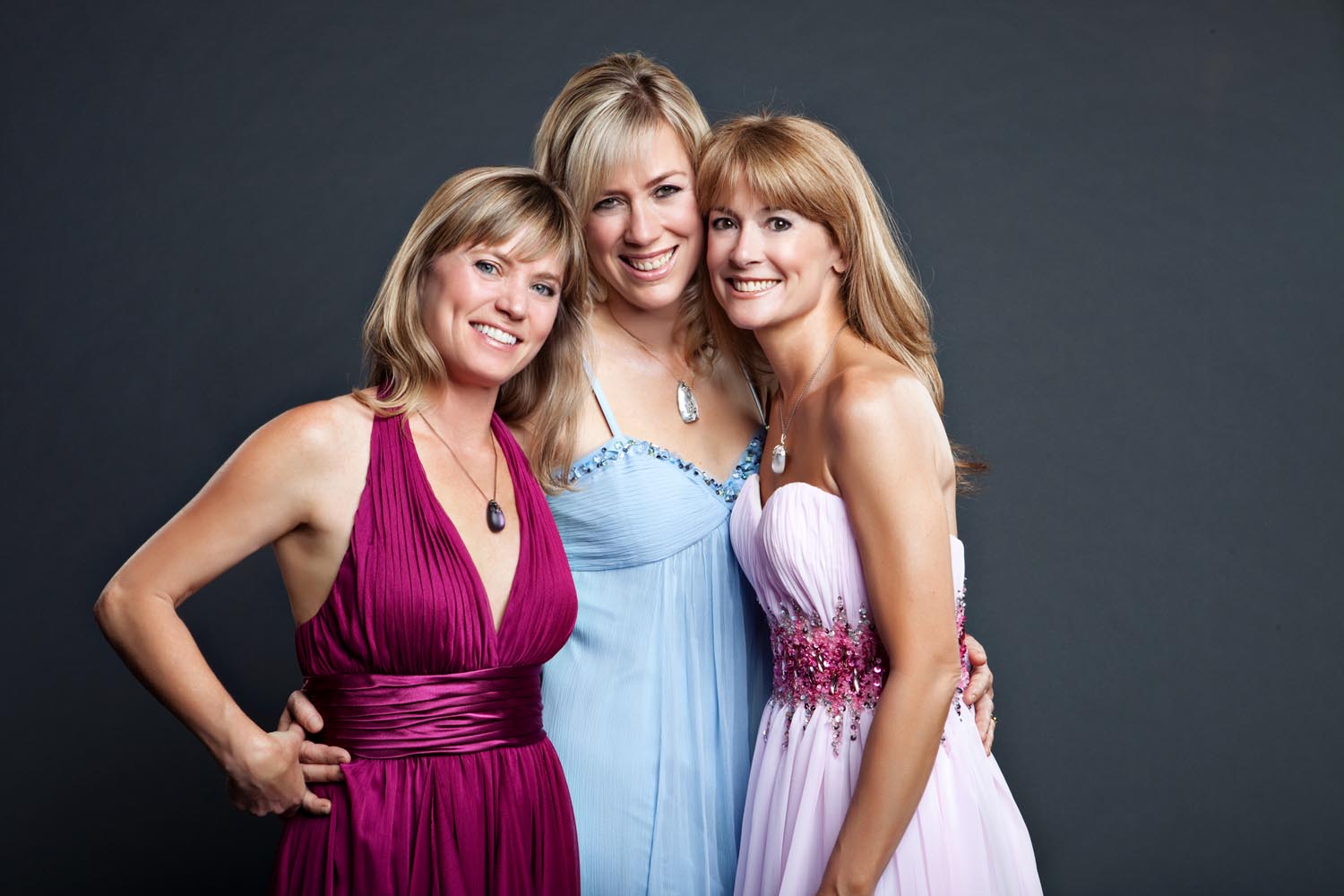 The Grammy award-nominated Eroica Trio returns! The Eroica Trio enraptures audiences with flawless technical virtuosity, irresistible enthusiasm, and sensual elegance. The three women who make up this celebrated ensemble electrify the concert stage with their passionate performances. The New York Times writes, "There is an edge of the seat intensity to every note they produce." .
The Trio won the prestigious Naumburg Award, resulting in a highly successful Lincoln Center debut and has since toured the United States, Europe, Middle East, South America and Asia. While maintaining their demanding concert schedule, the Eroica Trio has released eight critically lauded recordings for Angel/EMI classics Records, garnering them multiple Grammy nominations. The first all female chamber ensemble to reach the top echelon of the field, the women of the Eroica Trio has shattered the age-old gender barrier, leading the vanguard and inspiring many to follow.
The unique history of the players of the Eroica Trio goes all the way back to childhood. Sara Sant'Ambrogio and Erika Nickrenz first met at age 12, when Erika came to study with Sara's Grandmother, the founder of Red Fox Music Camp. Two years later, Sara collaborated with violinist Sara Parkins at the renowned Meadowmount School of Music, where they became fast friends, and later became roommates when they were both students at The Curtis Institute of Music. Sara Parkins and Erika Nickrenz also met in their teens, playing together as students at the Pre-College division of The Juilliard School and at the Tanglewood Music Center. That same year the Eroica Trio was formed at The Juilliard School. This intricate web of early connections helped forge a lifelong bond between the three women of the Eroica Trio.
The Eroica Trio performs the Beethoven Triple Concerto more frequently than any other trio in the world, having appeared with renowned symphonies such as Chicago, St. Louis, San Francisco, Mostly Mozart Orchestra, Nashville, Indianapolis, Atlanta, Pittsburgh, Houston, New Jersey and Seattle. In addition, The Trio has performed the work abroad with Orquesta Sinfonica de Euskadi in Spain, Haydn Orchestra in Italy, with the Royal Philharmonic Orchestra and Budapest Symphony in Germany, and on multiple tours in the United States with the Cincinnati Symphony as well as with the Prague Chamber Orchestra. The Eroica Trio's recording of the Beethoven Triple with the Prague Chamber Orchestra was so successful it landed this piece on Billboards Top 20 for the first time in recording history. The Trio appeared on the German television program "Klassich!" performing the Beethoven Triple Concerto with the Munich Symphony, which was aired throughout Europe. A multi-city tour of North America with the Vienna Symphony Orchestra, under the baton of Maestro Fabio Luisi, culminated in a sold out performance on the "Great Performers at Lincoln Center" series in Avery Fisher Hall in New York City.
This season the trio will be performing 2 World Premieres; The Loom, a work by Bruce Wolosoff, inspired by the watercolors of Eric Fischl, to be performed in Calderwood Hall at the Isabella Stewart Gardner Museum in Boston, and The Winter Trio by Michael Torke, to be premiered in Pasadena on the Coleman Series. Another exciting project for the trio is the upcoming premiere of Argentinean composer Daniel Binelli's Concerto for Piano Trio, Bandoneon and Orchestra.
Program
Bach: Chaconne
Piazzolla: Otono
Villa Lobos: Aria
Piazzolla: Primavera
Schoenfield: Cafe Music
Dvorak: Dumky Trio
Program Notes
Bach, Chaconne
Bach's Chaconne for solo violin is one of the great monuments of European music, about which Johannes Brahms wrote: "On one stave, for a small instrument, the man writes a whole world of the deepest thoughts and most powerful feelings. If I imagined that I could have created, even conceived the piece, I am quite certain that the excess of excitement and earth-shattering experience would have driven me out of my mind."
Consisting of sixty-four variations over a repeating bass line, the Chaconne evokes the grandeur and spirituality of a great cathedral. Bach himself was devoutly religious, and wrote a great deal of explicitly religious choral music. The Chaconne, though, was composed in 1723, when he was employed by a prince who preferred secular, instrumental music. While in Prince Leopold's employ, Bach wrote the Brandenburg Concertos, Book I of the Well-Tempered Clavier, the suites for solo cello, and many other works of purely instrumental music.
It is a matter for speculation whether the emotions and moods of the Chaconne are still to be understood as being mainly religious, despite the lack of any explicit indication. But whether religious or not, they are certainly exalted and spiritual. It is therefore a matter of some historical irony that the chaconne genre originates in a Latin American dance, imported by Spanish conquerors a century before Bach's time. The transformation from American dance to musical monument is quite drastic–as if a dancer's flouncing hip had been petrified into a cathedral's flying buttress. However, this connection with Latin America, folk music, and dance serves to also connect the Chaconne with the many other wonderful works on this program.
The current trio arrangement was made by Anne Dudley, known mainly as the composer of scores for films such as The Full Monty and The Crying Game.
Piazzolla, Otoño and Primavera from Estaciones Porteños
The concept of Astor Piazzolla's Estaciones Porteños was inspired not by Bach but by another Baroque master, Antonio Vivaldi: it is usually translated as Four Seasons of Buenos Aires. (Otoño means Autumn, and Primavera, Spring.)
Piazzolla is famous for having transformed a traditional Latin American dance, the tango, into the nuevo tango, a  new, contemporary form of art music which incorporates elements of jazz and classical music. The especially classical Estaciones Porteños grew out of Piazzolla's work with an Argentine playwright, Alberto Rodriguez Muñoz.
The story goes as follows: In 1957, Piazzolla wrote a piece called Tango del Ángel. In 1962 Rodriguez Muñoz decided to write a play of the same name, about an angel who appears in a block of Buenos Aires apartments to purify the souls of its residents. He asked Piazzolla to write additional music for the play, and then, in 1965, asked him to write more music, for a new play called Melenita de Oro (The Little Mop of Golden Hair.) Piazzolla came through with, among other pieces, Verano Porteño, or Buenos Aires Summer. (Porteño, or "of the port," is an adjective and noun used by Buenos Aires residents to refer to themselves.)
In 1969, Piazzolla wrote Otoño, and in 1970, noticing that Vivaldi had had a fairly good idea, finished with Primavera and Invierno. It has been noted that, as the seasons in Buenos Aires are less meteorologically diverse than those in Italy, Piazzolla's work focuses more on the porteños' shifting feelings than on outdoor conditions.
The Estaciones Porteños were originally written for Piazzolla's quintet of piano, bandoneón, violin, electric guitar, and bass. The piano trio transcription, quite free with regard to instrumental textures and melodic details, yet absolutely faithful to the spirit of the original, was made by José Bragato, a cellist who played in Piazzolla's octet and transcribed a great many of his works.
Villa-Lobos, Aria
Before Piazzolla, an earlier effort had been made to blend Latin American popular music with Classical traditions. In the 1930s and 40s, Brazilian composer Heitor Villa-Lobos wrote nine Bachianas Brasileiras. These are suites for various instrumental and vocal combinations, in  which elements of Bach's style are united with the spirit of the choro, a genre of urban music that Villa-Lobos called "the true incarnation of the Brazilian soul."
The Fifth of the Bachianas was written in 1938-45, for soprano with cello choir. It is famous for its aria, with Portuguese lyrics by Ruth V. Corrêa. The lyrics translate as follows: "Eventide, a rosy cloud, slow and transparent/ over the spot, dreamlike and beautiful!/ The moon gently appearing beyond the horizon,/ embellishing the eventide, like a sweet maid/ preparing herself till she's dreamily gorgeous,/ with her soul avid to become beautiful/ yelling crying to heaven and earth, to all of Nature!// Silent are the birds to her sad laments/ and reflected on the sea all of Her richness…/ Soft the light of the moon awakes already/ a fierce desire that laughs and cries./ Eventide, a rosy cloud, slow and transparent/ over the spot, dreamlike and beautiful!"
The present arrangement is by Brazilian composer and multi-instrumentalist Raimundo Penaforte.
Paul Schoenfield, Café Music       
Like Piazzolla and Villa-Lobos, Paul Schoenfield is a composer who often blends Classical music with folk and popular elements–often Jewish, and sometimes British, Slovakian, Country, or Vaudeville. In Café Music, he opts for not just one tradition, but the whole kitchen sink.
Schoenfield, born in 1947 in Detroit, is both a pianist and composer, and was at one time a freelance pianist in the Twin Cities. It was from this last experience that he drew inspiration for the present work: "The idea to compose Café Music first came to me in 1985 after sitting in one night for the pianist at Murray's Restaurant in Minneapolis, Minnesota. Murray's employs a house trio which plays entertaining dinner music in a wide variety of styles. My intention was to write a kind of high-class dinner music — music which could be played at a restaurant, but might also (just barely) find its way into a concert hall. The work draws on many of the types of music played by the trio at Murray's. For example, early 20th century American, Viennese, light classical, gypsy, and Broadway styles are all represented. A paraphrase of a beautiful Chassidic melody is incorporated in the second movement. Café Music was commissioned by the St. Paul Chamber Orchestra (SPCO) and received its premiere during a SPCO chamber concert in January 1987."
Dvořák, Piano Trio in E minor, Op.90, "Dumky"
And finally, Dvořák's Dumky Trio, too, has roots somewhere other than in the Classical music tradition. The work is made up of six dumky. What are dumky? The word is a plural for dumka, which according to Dvořák himself is an untranslatable word of Ukrainian origin, with its roots in melancholy poetry.
This is perhaps correct, but does not tell the whole story. According to musicologist Milan Kuna, Dvořák's dumky actually derive from two Ukrainian poetic forms, the dumka, which is elegiac and lyrical, and the duma, which is epic and verbose.
But Dvořák was not Ukrainian, he was Czech, and in his day, these two distinct Ukrainian poetic genres came to be combined into one Czech poetic genre, simultaneously elegiac and heroic. Poems from Dvořák's day such as "My Dumky," "Cossack Dumky," and "Evening Dumky" glorified the Ukrainian Cossacks' fight for freedom and other similar subjects. These subjects were actually a proxy for the issue Dvořák really cared about–Czech national aspirations and the Czechs' chafing under Austrian rule.
Whether or not Dvořák actually did derive the flavor of his dumky from these poems, there is something distinctly speech-like in the six movements of his trio. The second and third dumky, for example, open with themes made up of very few unique pitches. This is more like speaking than singing. There are not many instances when more than one melody sounds at the same time, unlike the case with most chamber music, which tends to be more conversational. Here, we are hearing one voice tell or sing the story, surrounded by a great deal of atmosphere. (Exceptions are some violin-cello interplay in the first dumka, and some counterpoint in the fifth.) Throughout, Dvořák brings in folk elements, sometimes Czech, sometimes Ukrainian, and sometimes Russian.
—Sasha Margolis
Sat, Feb 11, 2017
7:30 p.m.
Orvis Auditorium
University of Hawaii-Manoa
2411 Dole St.
Honolulu, HI 96822
Tickets
$45 General Admission
$20 Students
Buy Online
Or call the the University of Hawaii at Manoa Outreach College at 956-8246