Doric String Quartet
Saturday, February 10, 2018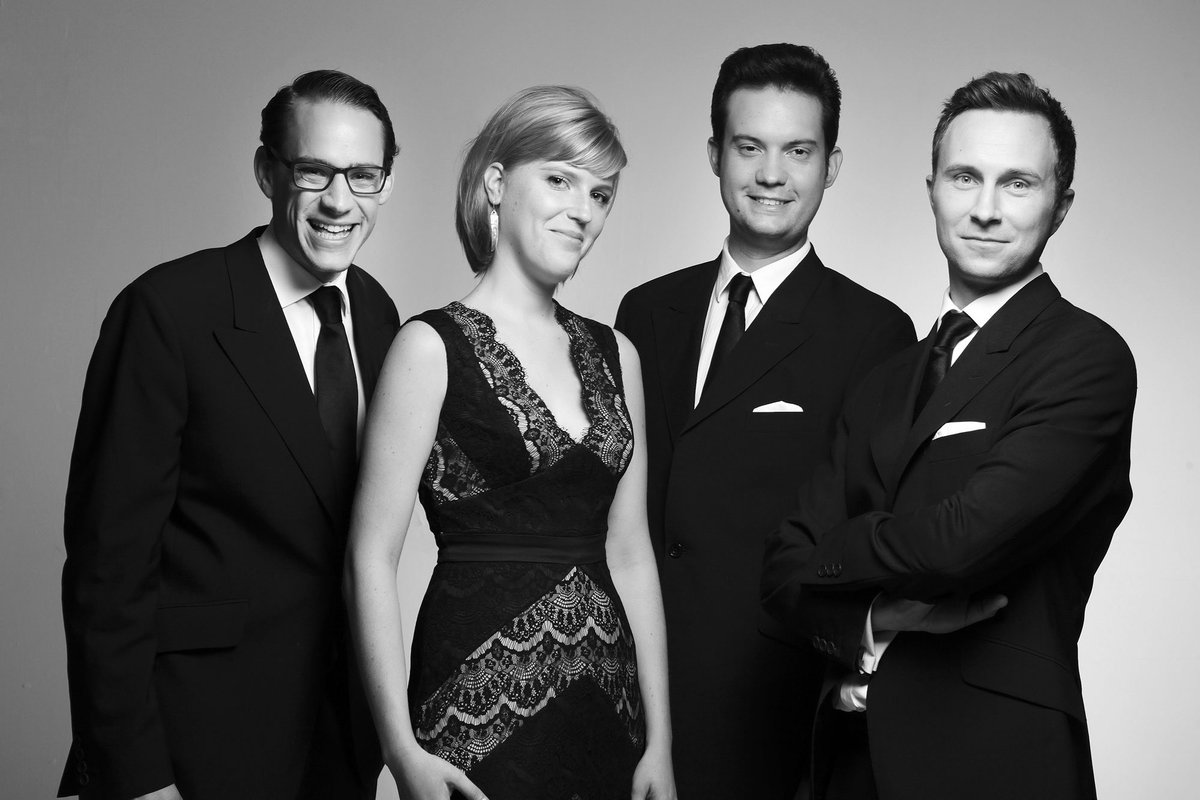 Program
Haydn: Quartet in E-flat Major, Op. 64, No. 6
Britten: Quartet No. 3, Op. 94
Mendelssohn: Quartet in f minor, Op. 80
Program Notes (click to expand)
Haydn, Quartet in E-flat, Op.64, No.6
1790 was a momentous year for Joseph Haydn. Long before, at the age of twenty-nine, he had entered the service of a music-loving nobleman, Prince Nikolaus Esterházy. During those years, he was obliged to follow Prince Nikolaus from one palace to another, writing music to order and dressing in the Esterházy livery. Finally, twenty-nine years later, the prince had died. His heirs had no interest in music. Suddenly, Haydn was free.
Despite the conditions of his daily life, Haydn was a popular composer on an international level. His music was familiar not only in the Esterházy strongholds of Eisenstadt and Esterháza, but in the most fashionable salons of Vienna and Paris and at the public concerts that had become a staple of musical life in London. Haydn took advantage. He moved to Vienna, and his signature hardly dry on his new lease, embarked on a tour to London.
Haydn's life changed so quickly that scholars remain uncertain for which audience he wrote this 1790 quartet. It almost doesn't matter. As András Schiff writes: "Haydn was writing for a public that understood perfectly his musical language. In Eisenstadt and Esterháza, in Vienna and Paris, and first and foremost in London, he was surrounded by a small but knowledgeable circle of professional and amateur musicians who received each new work with interest and appreciation. His audience was familiar with his earlier compositions, they knew his personal style and recognised immediately the unusual features … Musical expectations and surprises did not have to be explained, and Haydn's humour was able to flourish."
It is this humor that is of greatest relevance in the present case. Haydn was known as one of the funniest composers of his day. He made his jokes in the language of music, requiring listeners to pay close attention, setting up expectations and then, likely any good humorist, thwarting them.
The second-movement Andante is straightforward enough, highlighted by a first violin soliloquy in its middle section. In the Menuetto, Haydn sends the first violinist scurrying up into the instrument's nosebleed register, thwarting one kind of expectation. And in the finale, he indulges in comic opera-style, stop-and-start fun, thwarting expectations that the music's general momentum has encouraged.
It is in the opening Allegretto that Haydn is at his most subtly playful, as musicologist Danuta Mirka has detailed. Two important moments demonstrate the kind of rhythmic game he liked to play, which in the eighteenth-century was known as a confusione or an imbroglio. The Allegretto opens in a sedate alla breve, with two large beats per measure. But in the fourth measure, the music becomes more active, sounding briefly as if there are four important beats per measure. In other words, for the short duration of that measure, a listener moving to the music would probably move twice as fast. In the following few measures, this very mild ambiguity between two and four is reinforced.
Nothing earthshaking has happened. But Haydn has set up a punchline. In the recapitulation, he delivers it. He returns to the music of the opening. Soon, he gives the melody to just the violist, who embellishes it with a series of grace notes. The cello imitates the viola, coming in one large, alla breve beat behind. Then, like one child running behind another, the cello catches partway up, now playing a quicker, 4/4 beat behind.
These two children finish their game, and two others appear, the second violin taking the viola's leader role, and the first violin taking the cello's follower role. But these two have entered at the wrong moment, in the middle of a measure, instead of at the measure's beginning. As Mirka explains, "Because in the first pair the leading instrument was coordinated with the notated meter, the listener, confused by the preceding two measures, will follow the second violin in good faith that she is on the right metrical track." But she is not. To make matters even worse, the violins have been inspired by the mischievous cellist, who dropped one beat to catch up. They drop several beats. Now the meter sounds like neither 2 nor 4, but 3. Mild ambiguity has led to confusione. Mirka suggests that, in the grace notes that got things rolling, we can hear Haydn's laughter.
Britten, Quartet No. 3
Benjamin Britten's Third Quartet, a work of utmost seriousness, comes from a very different kind of life moment. Britten was just sixty-two when he wrote it in late 1975. But he was suffering from severe heart disease, and this was to be his last major work. Indeed, one of Britten's motivations for choosing the quartet medium, which he had neglected since the Second Quartet of 1945, was the relative ease of writing for an ensemble of four voices, rather than for a larger group.
He was aware that his end was near: according to musicologist Brian Hogwood, this "is where Britten officially takes his leave. A handful of works would follow, but this is the moment where he gives up his soul, in music of affecting beauty. The last movement ensures he leaves with his head held high, innovating and captivating to the very end."
It is perhaps natural that Britten wrote three slow movements to express his valedictory feelings. These, the first, third, and fifth movements of the piece, are separated by two scherzos, of the furious rather than the joking variety.
In the opening movement, "Duets", Britten investigates each of the six possible pairings within the quartet ensemble, sometimes intertwining two instruments, sometimes pitting them against each other, often combining two pairings at once, and exploring the possibilities of pizzicato textures and brusque chords, long tones and trilled drones, aching melodic fragments and eerie harmonics. The first scherzo, "Ostinato", builds obsessively upon a four-note pattern which might easily be the demented mistuning of a stringed instrument. In the movement's middle section, the ostinato pattern is turned briefly to tender, lyrical ends.
"Solo" begins as a quiet meditation by the first violin, before turning to a kind of birdsong music, breathtakingly imaginative and original, yet also resembling, in its daring traversal of registral space, works depicting spiritual flight by composers such as Messiaen and Janáček. "Burlesque," the second scherzo, bears stylistic kinship with both Mahler, about whom more in a moment, and Britten's friend Dmitri Shostakovich, who had died only months earlier, in August 1975.
Britten wrote these first four movements at his home in Aldeburgh, England. The final "Recitative and Passacaglia" was composed in Venice. Its subtitle, "La Serenissima", is a nickname for that city, and the circumstances of its composition had a noticeable effect on the music itself. The opening Recitative consists of five quotes from Britten's 1973 opera, Death in Venice. Based on the Thomas Mann novella of the same name, this opera depicts the spiritual decline and death by cholera of a great writer, Gustav von Aschenbach, who was modeled in part upon Gustav Mahler. The work was of central importance to Britten, who went so far as to say that "Death in Venice is everything that Peter and I have stood for." ("Peter" refers to Britten's longtime partner, the singer Peter Pears, who premiered the role of Aschenbach.) The five quotes, possibly meant as a musical gift to Pears, evoke several ideas and images from the opera: the city of Venice, the aging artist's turn from prim intellectualism toward dissolute sensuality, his persecution and treatment as an object of ridicule by local peddlers, and his obsession with a beautiful youth he has encountered on his visit to the decaying, cholera-infested city where he is doomed to die.
Having thus set the stage, Britten embarks upon a final journey, in the form of a passacaglia. The passacaglia's repeating bass-line was inspired by church bells the composer could hear from his Venice hotel room, while the music as a whole blends feelings of resignation and inevitability. Britten intended the final chord as more question than answer.
Mendelssohn, Quartet in f minor, Op.80
The circumstances under which Felix Mendelssohn wrote his F Minor Quartet were not unlike Britten's when he wrote his Third. Mendelssohn was very close to his sister Fanny, who was, like him, an extraordinarily talented pianist and composer. The two were intimate as children, and remained so throughout their short lives, often, for example, dedicating compositions to each other. In 1847, Fanny, then only forty-two years old, suffered a stroke and died. Upon hearing the news two days later, Felix collapsed with a stroke of his own. It was during his convalescence that he wrote this quartet, his last completed work. He died later in the year after a second stroke, aged only thirty-eight.
Where Britten's response to illness and death was one of resignation, Mendelssohn's response, as represented by this music, was anything but. This is music of pain and despair. Mendelssohn's friend Ignaz Moscheles, upon hearing it, wrote that "the impassioned character of the whole seems to me to be in keeping with his present frame of mind, shaken as he is to his heart's core by the loss of his sister." Another friend, Julius Benedict, believed that "it would be difficult to cite any piece of music which so completely impresses the listener with a sensation of gloomy foreboding, of anguish of mind, and of the most poetic melancholy, as does this masterly and eloquent composition."
The opening Allegro vivace assai is agitated throughout, full of tremolos, sighs and other downward-moving melodic figures, sudden fortepianos, all of this broken only by moments of nostalgic tenderness. The Allegro assai, in contrast to other Mendelssohn scherzos, is distinctly un-midsummerlike, un-Elfin. It is ridden with angst, painful in its ruthless hemiola rhythms, and powerful in its unisons. The trio is quiet and spectral.
The Adagio is movingly songful, melodic throughout, but punctuated by a series of un-melodic rhythmic figures, traces of the agitation that characterizes the rest of the quartet. That agitation returns in the Allegretto molto, with its tremolandos, hammering fortissimos, quicksilver melodic figures, and in conclusion, its fiery triplets.
—Sasha Margolis
An HCMS audience favorite, the Doric String Quartet has firmly established itself as the leading British string quartet of its generation, and performs in leading concert halls throughout Europe, including Amsterdam Concertgebouw, Vienna Konzerthaus, and Wigmore Hall. We're happy to have their return to HCMS since their last performance in Honolulu in 2011.
The Doric String Quartet has firmly established itself as the leading British string quartet of its generation, receiving enthusiastic responses from audiences and critics across the globe. Selected for representation by YCAT in 2006, the Quartet went on to win several prizes including 1st prize at the 2008 Osaka International Chamber Music Competition in Japan, 2nd prize at the Premio Paolo Borciani International String Quartet Competition in Italy and the Ensemble Prize at the Festspiele Mecklenburg-Vorpommern in Germany.
The Quartet performs in leading concert halls throughout Europe including Amsterdam Concertgebouw, Vienna Konzerthaus, Frankfurt Alte Oper, Hamburg Laeiszhalle and De Singel, Antwerp, and is a regular visitor to the Wigmore Hall. In 2010 the Quartet made its highly acclaimed American debut with recitals at the Frick Museum in New York and Library of Congress in Washington, and now returns for annual tours to North America. Alongside main season concerts the Quartet has a busy festival schedule and has performed at the Aldeburgh, Carinthischer Sommer, Delft, Edinbrugh, Grafenegg, Mecklenburg-Vorpommern, Musica Viva Sydney, Risør, Schwetzinger and West Cork Festivals, collaborating with artists including Nicolas Altstaedt, Jonathan Biss, Ian Bostridge, Andreas Haefliger, Chen Halevi, Alina Ibragimova, Aleksandar Madžar, Alexander Melnikov, Daniel Müller-Schott, Mark Padmore, and Cédric Tiberghien.
Another recent highlight has seen the Quartet take on John Adams' "Absolute Jest" for String Quartet and Orchestra. The Doric have now performed the piece with the Vienna Symphony at the Vienna Konzerthaus with John Adams conducting, with the Netherlands Radio Philharmonic at the Concertgebouw and with the BBC Scottish Symphony Orchestra conducted by Markus Stenz.
Highlights of the 2015/16 season include five performances at the Wigmore Hall, as well as return appearances at the Berlin Konzerthaus and Amsterdam Concertgebouw. In April the Quartet returns to North America for its annual tour, this time including performances in Salt Lake City, Philadelphia, Boston and Vancouver. European recital engagements include appearances in Aalborg, Aarhus, Clermont-Ferrand, den Bosch, Ferrara,,Haarlem and Perugia. They will also tour with Elisabeth Leonskaja, including performances at the Musikverein in Vienna and at Wigmore Hall. Festival engagements take the quartet to the Cheltenham, Poznan, Risør and Storioni Chamber Music Festivals, as well as appearances at the Oxford Lieder, Two Moors and North Norfolk Music Festivals.
In 2009 the Doric String Quartet's first CD was released to critical acclaim on the Wigmore Live label and was chosen as Editor's Choice in Gramophone. Since 2010 the Quartet has recorded exclusively for Chandos Records. The first CD, the complete Korngold String Quartets, was featured as one of the 2010 Critic's Choice discs in Gramophone and was followed by a CD of the Walton String Quartets which was nominated for a 2011 Gramophone Award. The Quartet's release of the Schumann String Quartets was named CD of the Month in both Gramophone and BBC Music Magazine and was shortlisted for a 2012 Gramophone Award. Their most recent releases of Haydn's Op 20 Quartets and Quartets by Janáček and Martinů have both gathered enthusiastic reviews across the board, with the Haydn disc being named Editor's Choice by Gramophone and shortlisted for a 2015 Gramophone Award.
Sat, Feb. 10, 2018
7:30 p.m.
Orvis Auditorium
University of Hawaii-Manoa
2411 Dole St.
Honolulu, HI 96822
Prince Preview *new*
Fri., Feb. 9
6:00 p.m.
(See below for more info)
Individual Tickets
$45 General Admission
$20 Students
Purchase
Or call the the University of Hawaii at Manoa Outreach College at 956-8246 (indiv. tickets only)