Camerata RCO
Friday, March 24, 2017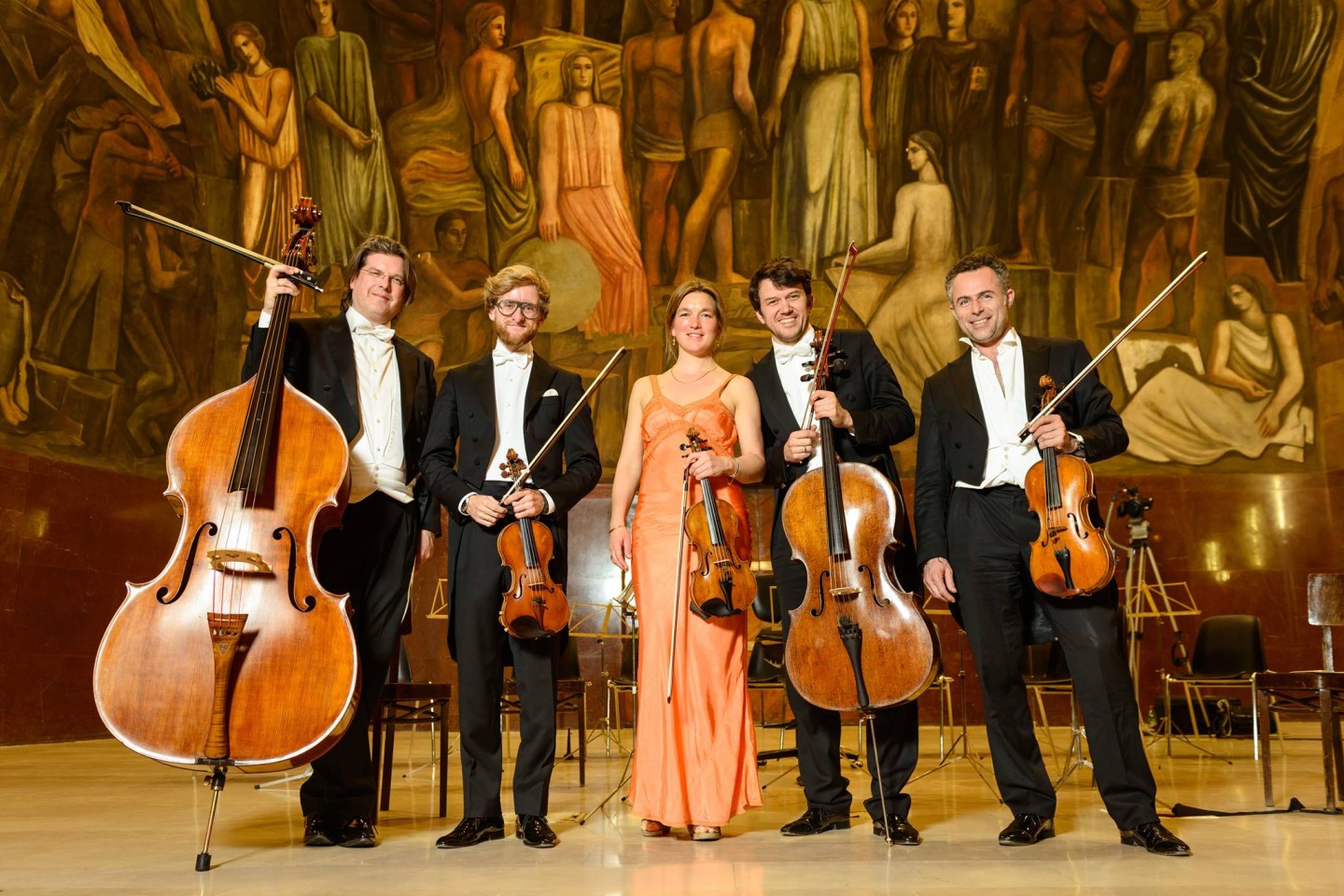 From Camerata RCO:
Camerata RCO is a unique ensemble. We are all members of the Royal Concertgebouw Orchestra in Amsterdam and we enjoy playing in the orchestra tremendously. However, we like to expand this joy by playing together in a small ensemble as well
Not only is the repertoire of a small ensemble  different, we also feel that chamber music is more personal and intimate. It is refreshing to get to know our colleagues in the orchestra better while working together in Camerata RCO. We are completely free to choose the repertoire we play, where we play it and with whom. With Camerata RCO we like to be in close contact with our audience. The energy that results from these concerts is what inspires us most.
CONCERTS
Camerata RCO plays many concerts in the Netherlands and abroad. The ensemble has residencies in Spaarndam and Dordrecht, as well as Festival Amfiteatrof in Levanto, Italy. We have performed in such cities as New York, Minsk, Tokyo, Seoul, Vienna, Rome and Madrid.
CD'S & BROADCASTING
Camerata RCO has appeared on many radio and television broadcasts and has recorded several CD's (Corelli, Mozart, Mendelssohn, Ravel) with the Gutman Records label. Our latest CD was released in September 2014 and it features Mahler 9th Symphony for chamber ensemble under the baton of the talented Spanish conductor Gustavo Gimeno.
Program
R. Schumann: Fantasiestücke op.73 in arrangement by Geert van Keulen
Dvorak: Terzetto in C major, op. 74
Brahms: Clarinet quintet op.115 in b minor
CAMERATA RCO
Marc Daniel van Biemen, violin
Annebeth Webb, violin
Vilém Kijonka, viola
Laure Ledantec, cello
Hein Wiedijk, clarinet
Program Notes
Schumann, Fantasiestücke, op.73
As the son of a bookseller, Robert Schumann immersed himself in literature from a young age, and responded especially to the era's works of fantasy. These were not tales of heroes and dragons and thrones, as are featured in today's fantasy literature; they were stranger, and more interior, more psychological. Authors such as E.T.A. Hoffmann, whose imaginings many of us are familiar with from the Nutcracker ballet and the opera Tales of Hoffmann (both based on Hoffmann stories) seem to have spoken to Schumann in a profound way. Inspired by his reading, Schumann developed his own fantasy life, replete with characters representing aspects of his own personality: the dreamy Eusebius, the impetuous Florestan, and others.
It should therefore come as no surprise that Schumann wrote many pieces with "fantasy" in the title, including the Fantasy for solo piano heard on this series just two months ago. He penned no fewer than four sets of pieces that he called Fantasiestücke, or fantasy pieces, a title he borrowed from none other than Hoffmann. Hoffmann had published, when Schumann was only four years old, a collection of novellas called Fantasiestücke in Callots Manier, that is, Fantasy Pieces in Callot's Manner. (Callot was a 17th-century French printmaker known for his vivid, sometimes exaggerated images.)
Fantasy pieces served, for Schumann, as a perfect vehicle for the activities of his fantasy characters, and in the case of the earliest set of Fantasiestücke, written for solo piano, he was explicit about the presence of Florestan and Eusebius in the music. It seems safe to assume that they inhabit the later Opus 73 set as well, though Florestan has probably gained the upper hand here: on the whole, we hear more impetuosity than dreaminess.
The composition process for Opus 73 was impetuous as well, taking only two days, in February of 1849. The pieces were originally written for clarinet and piano, with the idea that the clarinet could be replaced by viola or cello. They were never performed by clarinet quintet until the advent of this transcription by Geert van Keulen, a Dutch composer and clarinetist who has also arranged Brahms' two clarinet-piano sonatas for clarinet-string ensembles. The movement titles translate as Tender and with expression; Lively and light; and Quick and fiery.
Dvořák, Terzetto in C major, op. 74
Dvořák's Terzetto was composed with similar speed, over the course of just a few days in January 1887. Dvořák must have had a very clear vision of what he wanted to produce, and part of his clarity of vision may be attributed to his having had quite specific performers in mind. The composer and his family were living in part of a house that year; another apartment in the house was occupied by Dvořák's mother-in-law, who had rented one of her rooms to a chemistry student, by the name of Josef Kruis. This Kruis was taking violin lessons with a player in the orchestra at the National Theater, Jan Pelikan. Dvořák, an excellent violist, would sometimes play music with Kruis and Pelikan, and finally decided to write a piece for the unusual instrumental combination of two violins and viola. It was a nice plan, but it turned out that Kruis was not up to the technical demands of the violin part Dvořák wrote. The composer eventually wrote an easier piece to play with Kruis and Pelikan, while this Terzetto came to be premiered by a different group, quickly earning a beloved place in the string repertoire.
Throughout, Dvořák uses his own instrument, the viola, in unusual ways to supply a bass line where there is no bass instrument. The first movement is an extended, lyrical introduction, leading into a still more lyrical Larghetto with a rhythmic middle section. The scherzo is written as a furiant, a Czech dance form featuring two-against-three cross-rhythms. The finale is a theme with ten variations.
Brahms, Clarinet Quintet, op.115 in B minor
Classical music fans tend to think of Johannes Brahms as an old man: rotund, white-bearded, a sort of musical Santa Claus. Yet he was only sixty-four years old when he died, and obviously, under sixty when he wrote most of his music. Perhaps the mistaken idea of his oldness originates in a sort of grade on a curve: so many other great composers died in their thirties (Mozart, Schubert, Chopin and Mendelssohn), forties (Schumann, Musorgsky) or fifties (Beethoven, Debussy, Tchaikovsky, Mahler.) Sixty-four is, relatively speaking, ancient. Or perhaps we think of  Brahms as old because he was such an old soul, who wrote so much music that has earned the adjective "autumnal."
The truth is, it has not been his fans alone who have thought of Brahms as old: the man himself decided to retire from composing at the tender age of fifty-seven, when most composers who have managed to outlive Mozart and Schubert are still happily plugging away at new pieces. Perhaps for Brahms, fifty-seven felt more like seventy or eighty.
His retirement was undoubtedly unusual in its earliness. But, happily for us, it was equally unusual in its brevity. He retired in 1891. In 1892, he took a trip to Meiningen, in Germany, and while there, heard a musician who made quite an impression, one Richard Mühlfeld. Mühlfeld had joined the Meiningen orchestra as a violinist, but soon switched to clarinet. Brahms heard him perform a number of works on this first visit, including, the Mozart clarinet quintet. He was so taken with Mühlfeld's tone quality and musicianship that he decided to come out of retirement, just to write several works for clarinet: two sonatas, a piano trio, and the present quintet. Because of his galvanizing effect, we also have Mühlfeld to thank for other late masterworks Brahms might never have written, the piano Intermezzi and the Four  Serious Songs.
The works that Mühlfeld inspired tend to reinforce the image of an old Brahms, or at least, the idea that he was an old soul. When it comes to these late works, the descriptor "autumnal" is especially common, along with another, "resigned." The Clarinet Quintet is certainly among the works that invite this kind of talk. But since Brahms is Brahms, and contains multitudes, the piece is not lacking, either, in regret, or defiance, or occasionally, light-heartedness. To begin with, the opening Allegro movement has a special, ambivalent nature, deriving from its mixture of melancholy musical material with a swinging 6/8 meter. It's difficult to feel completely hopeless about the world when you're proceeding in 6/8.
The Adagio second movement likewise eschews 4/4 meter: it features a melody of deceptive simplicity, written in 3/4. The simplicity comes from the melody's rhythmic profile: the first twelve notes are all quarter notes. This unusual level of sameness could lead to a feeling of stagnancy, except that underlying the melodic voice are complicated cross-rhythms which create all kinds of mixed messages, forward and backward motion in continuous conflict. In the middle of the Adagio movement, we enter quite a different world. For all his complex artistry, Brahms was also attracted to much simpler forms of music, and especially what was known in his day as Gypsy or Hungarian music. Brahms first became acquainted with the genre as a piano accompanist to Hungarian-Jewish violinist Eduard Rémenyi, who not only specialized in "Gypsy" tunes himself, but also brought the young Brahms to hear authentic Roma bands. Brahms' familiarity with these tunes was reinforced and amplified on an ongoing basis at the Red Hedgehog tavern, a Viennese eating establishment (also frequented by Schubert) where he went daily to dine. While enjoying his favorite dishes (reportedly, a "highly-seasoned meat course" thought to be goulash, and the beef pilaf) and drinking the Tokay wine kept especially for him in a barrel in the cellar, he listened to the house "Gypsy" band. These experiences resulted in Brahms' Hungarian Dance arrangements, the finale of the G minor piano quartet, and this extraordinary middle section, in which the clarinet rhapsodizes, while the strings collectively play the role of cimbalom.
The third movement begins as a 4/4 Andantino, and then turns into a 2/4 Presto non assai. Posing a slight quandary for the performers, the 4/4 Andantino never returns, but all of its musical material does, only written now in 2/4. Whatever conceptual angst this may inspire, it does not translate much in sound: this movement is undoubtedly the most light-hearted of the four.
The finale is a theme and variations, ending with the return of figures from the first movement. This repeated material, which also appears in the Adagio, points to one of Brahms' chief aims as a composer, the creation of a sense of organic unity within the entire work. This unity exists at a deeper and more fractional level as well. If we analyze the notes in the violin parts at the very opening of the quintet, we find that the first three sixteenth notes they play (that is, the second, third, and fourth notes of the piece) are spaced at intervals of a dropping half-step, and then a dropping whole step. The final movement begins with precisely the same intervals. Add one note (an upward half-step following the downward half-step), and you get the first four notes of the third movement. Add a different note (a lower neighbor) and you get the kernel of the first movement, first heard in the third measure. While the theme of the slow movement is a slightly more distant modification, the notes played in cross-rhythms beneath are closely related. To be less specific and mathematical, what Brahms is doing is nearly biological, a splitting and combining of cells to produce larger organisms.
One further musical feature creating a feeling of ambivalence in this quintet is Brahms' treatment of harmony. The main key is B minor, but as a secondary key, Brahms does not proceed as an earlier composer such as Beethoven might have. Where a Beethoven would established a strong dominant key of F# major as a firm contrast to B minor, Brahms moves most often into the relative key of D major. He goes between B minor and D major so easily that we are often left unsure whether we are really in major or minor.
—Sasha Margolis        .
Fri, Mar 24, 2017
7:30 p.m.
Orvis Auditorium
University of Hawaii-Manoa
2411 Dole St.
Honolulu, HI 96822
Tickets
$45 General Admission
$20 Students
Buy Online
Or call the the University of Hawaii at Manoa Outreach College at 956-8246